Lucía Jerez, a choreography made by Alicia Alonso
Submitted by: admin

11 / 16 / 2008
---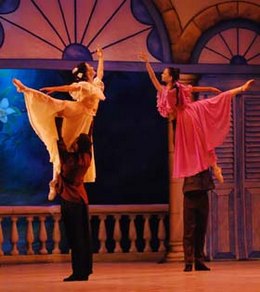 The ballet has one act and three scenes and fill the hall of ovations to Alicia Alonso, the choreographer, who showed again that natural gift she has to tell with a great economy of resources a story full of subtleties, such as this novel and, above everything else, take it to the movement while doing a synthesis of the conflict that ends in a fatal event when Lucia, blind by jealousy shoots against her friends Sol.
Alicia shows here again all her experience learned as dancer, together with Tudor (that language of gestures and situations) and with Balanchine, the brilliant use of the technique, to create choreographic designs in a story told through the dance.
It is not a pyrotechnic ballet, but there is a rational and evident use of the technique, where young dancers had an important role by performing the different characters in an organic and credible way.
Viengsay showed she is an artist with great dramatic level that contributed to Lucia, Grettel Morejón was a revelation both in this Sol del Valle as in her role as Elisa in La Flauta Magica, for her beautiful line, fluid dance and her femininity that is no longer a promise to become a reality of the BNC.
Yadil Suárez as Juan Jerez gave us a well dramatised character both technically and interpretative, as well as Dayron Vera, who was full performance in his Pedro Real, to which he gave several characteristics such as a seducer, a bit distant but nice and a conquer.
Jessie Domínguez, Aymara Vasallo and the designs of Frank Álvarez were all very good.
The music of the maestro Enrique González Mantici (1912-1974), famous Cuban composer and orchestra director, who was very closed to the BNC in the first decades of his life was another good point of the play. Even though the music is not melodically indulgent, it is interesting for its Latin flavour that enhances the ballet.
The three movements of the Mantici Triptico, are perfectly adapted to the three movements of the piece and as if they were created specially for it.
Another outstanding note was the presentation of the first Cuban dancer Carlos Acosta in the solo Le bourgeois, choreography of Ben van Couvenberg and music of Jacques Brel, in which he showed all his strength and spirit, combined with that technical display usual in him, to win the biggest applause of the night.
(Cubarte)
---
Related News
---