Renowned Cuban musician José María Vitier premiered on November 20th in Mexico.
Submitted by: admin

11 / 14 / 2008
---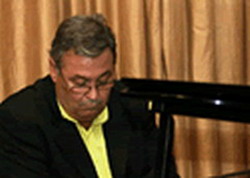 Though José María Vitier has a vast experience, his music composed for several films so prove it, he was both surprised to know who the librettist was and happy that he had been chosen by the author himself to compose the opera.
The original work was written by no other than Mexican writer Carlos Fuentes --one of the best-known living novelists and essayists in the Spanish-speaking world, who has now decided to make a foray into opera.
Entitled 'Santa Anna', the opera will have its premiere at the Esperanza Iris theatre in the Mexican capital, as part of celebrations marking the 80th birthday of the author of ´La región más transparente' and 'La muerte de Artemio Cruz'.
In his work, Fuentes reflects the last days in the life of Mexican politician and army general Antonio López de Santa Anna (1794 - 1876) in a remote retreat. Santa Anna's wife María Dolores Tosta hired beggars to venerate her old husband.
Fuentes was interested in the highly controversial man, who was President of Mexico on eleven non-consecutive occasions over a period of 22 years and in 1853 declared himself dictator for life with the title "Most Serene Highness". Under his rule of Mexico, the nation lost half its territory. In his official character as chief of the Mexican nation, he acknowledged the full independence of the Republic of Texas, a territory that was later annexed by the United States.
(Granma)
---
Related News
---