South African singer Miriam Makeba died
Submitted by: admin

11 / 12 / 2008
---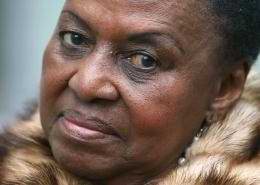 Makeba, also known as "Mama Africa," was born on March 4, 1932 in Johannesburg. She was internationally known for her fight against apartheid. She was named delegate of the United Nations. Her commitment against racial segregation, along with her international fame as singer, caused the reaction of the South African government which, in full swing of the apartheid regime in 1963, forced her to exile, and banned all her discs. The singer had to wait almost 30 years to return to South Africa: in 1990, Nelson Mandela convinced her to return to her birthplace (her mother belonged to the Swazi ethnic group, and her father, who had died when she was six years old, was a Xhosa). During that long period of her life, when she did her best as artist, Makeba first lived in Europe and then in the United States. In 1985, she decided to finish her artistic career with a memorable tour of all the countries where she had performed.
The 76-year-old singer, who popularized the song "Pata Pata," sang barefoot for nearly half an hour before a warm audience that bid her a farewell with great ovation. She was not feeling well after the concert.
Her assistants thought the discomfort was temporary, but she did not improve and was taken to Pineta Grande Clinic in an ambulance.
The doctors diagnosed a cardiac arrest and provided emergency attention, but Makeba could not recover.
Makeba, whose life was marked by the civil commitment against racial segregation, died fighting in Castel Volturno, the scene of a severe racist bloodshed over a month ago, and the birthplace of writer Roberto Saviano, threatened with death by Camorra.
(www.cubanow.net)
---
Related News
---