Cuba Opts for Linux to Guarantee Technological Independence
Submitted by: admin

11 / 11 / 2008
---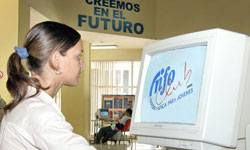 An understanding of what will be needed to generalize the understanding of the Linux operating system was the essential outcome of the Youth Computing Club's Free Software Festival, which was held in the central Cuban province of Cienfuegos.
The event, which noted the advances made in adopting the new system over the past few years, was made possible by several companies and institutions that have shifted to Linux.
At the festival, several presentations were made on the distributional principals, tools and advantages of the system, which is characterized by flexibility in that each user can modify the source code to personalize their operating version.
Dania Perez Antero, director of the Cienfuegos Computer Center, explained to JR that the event strengthened the base of knowledge on the subject.
The president of the Free Software Group of Cienfuegos, Alexei Seisdedo, explained that the main advantages to moving to the system are the technological independence that it offers, as well as the degree of security and reliability that can be reached after adopting it.
Seisdedo added that the number of organizations that have decided to migrate towards Linux is constantly increasing, as he cited a number of institutions within the province that have adopted the new operating system. These include the ETECSA telephone system, the Popular Assembly of Aguada, the Youth Club of Cumanayagua and Caunao, the Jose Gregorio Martinez Polytechnic Institute of Computer Science and Carlos Rafael Rodriguez University, among others.
(Juventud Rebelde)  
---
Related News
---