Cuba`s Leinier Dominguez Becomes World`s Blitz Chess Champion
Submitted by: admin

11 / 10 / 2008
---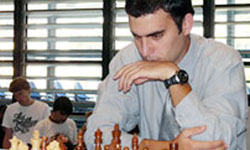 Cuban GM Leinier Dominguez added another incredible notch to his already prolific career by winning the Almaty Blitz Chess World Championships in Kazakhstan.
Dominguez won the tournament undefeated with 11.5 points, accumulated from his 8 victories and 7 draws against most of the major players in the world ranking.
Leinier beat Russians Alexander Grischuk and Alexander Morozevich (second in the world ranking), Hungarian Judith Polgar, Azerbaijan's Shakhriar Mamedyarov, French Vlad Tkachev, Israeli Boris Gelfand, Egyptian Amin Bassem and host Murtas Kazhgaleev.
Also, he drew against now former champion Ukrainian Vassily Ivanchuk, Sergey Rublevsky, Teimour Radjabov, Gata Kamsky, Krihrian Sasikiran, and Peter Svidler, another of the elite players.
Leinier, born on September 23rd 1983, was compared by specialists that attended this tournament, with late Jose Raul Capablanca (World Champion 1921-1927).
This is the forth world title a Cuban obtains, after the Junior World Campionships titles won by Walter Arencibia (1986) and Lázaro Bruzón (2000).
(Mathaba.net)
---
Related News
---