Hurricane Paloma with winds of 140 miles attacks Cuba today
Submitted by: admin

11 / 08 / 2008
---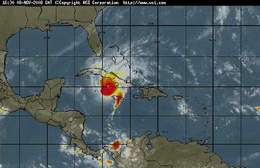 Cuban authorities issued maximum hurricane warnings for six provinces ahead of the arrival of Paloma, a Category Four hurricane on a scale of five, with hundreds of thousands expected to be evacuated.
About 3,000 foreign tourists are being sheltered on northern holiday islands in the central region of Ciego de Avila, Cuba's Civil Defense said.
Residents of the Cayman Islands, a British territory with tourism and banking interests south of Cuba, emerged from shelters Saturday morning to piles of debris, flattened trees and localized flooding.
Local officials said it was still too early to make a damage assessment on the worst affected islands -- Cayman Brac and Little Cayman -- and slow progress was being made due to blocked roads and downed power lines.
"We have just commenced damage assessment, but are moving very slowly," district commissioner Ernie Scott told AFP by telephone from Cayman Brac.
"Both islands have been severely damaged island-wide. Trees have been flattened, there's not a leaf or a branch left anywhere. Utility polls are down and there are wires across the road," he added.
The Grand Cayman island appeared to have escaped the worst of the storm.
Churning east-northeast at a speed of 15 kilometers an hour (nine miles), Paloma was expected in Cuba later Saturday or Sunday morning, according to the US National Hurricane Center in Miami.
"Paloma is an extremely dangerous Category Four hurricane on the Saffir-Simpson scale," the center said in its latest update.
"Some weakening is forecast during the next 24 hours but Paloma is expected to remain a major hurricane up until landfall in Cuba."
Storm surges of 17-23 feet (3.6 meters) accompanied by "large and dangerous battering waves" were forecast for Cuba where local authorities have begun organizing defenses and preparing residents.
The Civil Defense has issued hurricane warnings for the central and eastern provinces of Camaguey, Las Tunas, Holguin, Granma, Santiago de Cuba and Guantanamo.
It has also ordered local authorities to take measures to protect people and infrastructure.
Cuba is reeling from a devastating storm season and Paloma will be the third such tempest to crash into the island in 60 days. The Atlantic hurricane season stretches from June 1 to November 30.
Cuban leader Fidel Castro, 82, sought to boost morale in the nation in an article published in the local press, encouraging people to remain positive.
He stressed again, however, that the country would refuse any aide from the United States as long as the US trade embargo of the last 46 years remained in place.
The 2008 hurricane season, including devastating Hurricanes Gustav and Ike, has killed hundreds across the Caribbean and Central America and wrought billions of dollars in damage across the region.
Gustav and Ike, which struck Cuba on August 30 and September 9, caused an estimated 9.3 billion dollars in damage, almost double the original estimates, according to official reports.
In the Caribbean's most populous island nation, with more than 11 million people, the storms have damaged some tourism infrastructure and destroyed about 80 percent of crops.
Gladys Sanchez, a resident of Minas, north of the central city of Camaguey, told AFP by telephone that "no one had expected another hurricane."
"There are people here who are still homeless," she said, adding that local residents had just begun to recover from the previous storms.
"It has been raining here since morning -- everything is dark," she said.
(AFP)
---
Related News
---