Hurricane Paloma powers up on path to Caymans, Cuba
Submitted by: admin

11 / 08 / 2008
---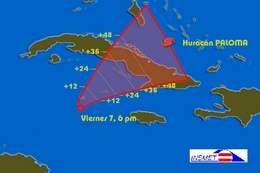 The Cayman Islands, a British territory with major tourism and banking interests south of Cuba, hunkered down, closing shelters and urging residents to stay put in the face of Paloma, which strengthened into a Category Three storm.
At 7:00 pm (0000 GMT) Paloma's center was 50 kilometers (30 miles) south of Grand Cayman and about 440 kilometers (275 miles) southwest of Camaguey, Cuba, the National Hurricane Center (NHC) in Miami said.
"Dangerous, major Hurricane Paloma" was whipping maximum sustained winds of 185 kilometers (115 miles) per hour, the NHC said, as torrential rains pounded the low-lying Caribbean island.
"Paloma is now a Category Three hurricane on the Saffir-Simpson scale. Additional strengthening is possible through Saturday morning," it said.
Paloma was churning north at nine kilometers per hour (six miles per hour) and is expected to pass over Grand Cayman and then slam into Cuba's southwest coast late Saturday, said the center.
Shelters on Grand Cayman were closed by mid-afternoon Friday to "ensure the safety of people in the shelters and also ensure that persons get off the roads," local authorities said in a statement.
It is "time to stay indoors," said Donovan Ebanks, chairman of the National Hurricane Management Council.
There was no curfew in effect on the island, but acting police commissioner David George urged residents to "stay in their homes or rest shelter (and) only leave if you really really have to."
Coming toward the end of the Atlantic hurricane season, which stretches from June 1 to November 30, storm surge flooding on the Caymans was expected of up to 12 feet (3.6 meters) at Paloma's center.
The storm would likely produce rainfall of 12 to 25 centimeters (five to 10 inches) across the Caymans and central and eastern Cuba, with up to 38 centimeters (15 inches) in some places, the NHC said.
Tracking northeast to strike Cuba's south-central coast late Saturday, and with Havana still reeling from a devastating storm season, Paloma would be the fifth to crash into the island this year.
The storm represents a potential "high risk" for central and eastern Cuba, said Jose Rubiera, the head of the Cuban Meteorological Institute (INSMET).
Cuba declared a hurricane warning for its central and eastern provinces Friday, covering Sancti Spiritus, Ciego de Avila, Camaguey, Las Tunas, Holguin, Granma, Santiago de Cuba and Guantanamo, civil defense officials said.
Those provinces are to get in place "protective measures paying top attention to low-lying flood-prone areas," a civil defense statement said.
The 2008 hurricane season, including devastating Hurricanes Gustav and Ike, has killed hundreds across the Caribbean and Central America and wrought billions of dollars in damage across the region.
Gustav and Ike, which struck Cuba on August 30 and September 9, caused an estimated 9.3 billion dollars in damage, almost double the original estimates, according to official reports.
In the Caribbean's most populous island nation, with more than 11 million people, the storms have damaged some tourism infrastructure and destroyed about 80 percent of crops.
(AFP)
---
Related News
---