Seven Patients with Cochlear Implant Leave the World of Silence in Ciego de Ávila, Cuba
Submitted by: admin

11 / 07 / 2008
---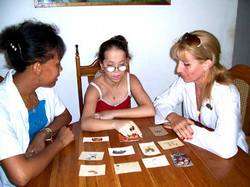 Jennifer in her rehabilitative process practices conversation under the guidance of Dr.  Lourdes González and Alina Alonso, a university graduate
The youngest beneficiaries of this technology are two five-years-old children, Ernesto Valero Assef, from Baragua, and Cristina Álvarez Varela, from Chambas municipality.
The complex surgery to place the auditory devise is conducted in specialized hospitals of Havana city, and the initial recovery phase takes place at La Pradera International Health, after which period the patients are ready to start a hearing and speaking rehabilitation process in their houses.
 A multidisciplinary team, made up by doctors, psychologists, educators and support personnel, is working in Ciego de Ávila province to provide the patients with a fluent speech.
Dr. Lourdes María González, who graduated in 1996 as a first degree speech therapist, expressed that "this new experience takes an intensive and patient work, much love and dedication in order to deal with people who always lived in a world of silence.
"the process of detecting more deaf children has been continuous, aiming get them to have cochlear implants which should take place at early ages, when the complex rehabilitation process can be easier and bring about better results", Dr. González added.
The cochlear implant consists on a chip placed, by means of a microsurgery, in the inner ear of those who suffer from bilateral deep deafness.
The prosthesis is able to recognize between 16 and 31 stimulation channels in the inner ear and sends electric impulses to the brain, which signals the patient should learn to decode, therefore the treatment is so intensive, complex and hard.  
So far 145 patients have been operated all over the island, among them 22 deaf-blind. The first operation took place eight years ago and among the patients who have been operated there is an eleven-month girl.  
This kind of surgery is very difficult, takes advanced technology, special treatment and experience. It lasts some 2-3 hours and entails few further complications. In the United States this operation costs over 35 000 dollars while in Cuba it is free.   
(Invasor.cu)
---
Related News
---