Speleologists from the central Cuban province of Sancti Spiritus Found a Pleistocene Fossil
Submitted by: admin

11 / 06 / 2008
---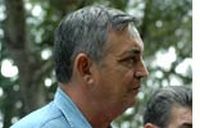 Alejandro Romero, vice president of the Antonio Nuñez Jimenez Nature and Man Foundation, confirmed that the fossil was found in the Guamuhaya mountain range, more than 186 miles southeast of Havana.
The sloth, which belongs to the Megaloncchydae family, is a dog-sized herbivorous animal with long claws that lived on the Caribbean island's territory during the Pleistocene period, more than one million years ago, the researcher added.
Romero noted that other land vertebrates from the same period have been found in other Sancti Spiritus areas, especially in the mountains.
He noted that those findings have allowed scientists to reconstruct the fauna, the habitat and the structure of the food chain at the time.
(PL)
---
Related News
---