World reaction to Obama victory: From jubilation to trepidation
Submitted by: admin

11 / 05 / 2008
---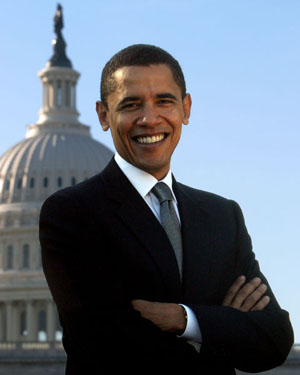 Harper said Canadian officials and diplomats would be reaching out to work closely with Obama's transition team in the weeks and months ahead.
Reaction to Obama's win ranged from jubilation to trepidation on the streets of the world's capital cities as official congratulations from heads of state began to flow shortly after Republican candidate John McCain conceded the election.
Kenyan President Mwai Kibaki called Obama's victory in the US presidential election a "momentous" day for Kenya, where Obama's father was born.
Kibaki declared Thursday a public holiday for Kenyans to "celebrate the historic achievement by Senator Obama and our country."
"This is a momentous day not only in the history of the United States of America, but also for us in Kenya. The victory of Senator Obama is our own victory because of his roots here in Kenya. As a country, we are full of pride for his success," Kibaki said in a statement.
Afghan President Hamid Karzai said Obama's victory took the world into a "new era."
"The election of Senator Barack Obama to the presidency of the United States has taken the American people and the rest of the world with them into a new era - an era where race, colour and ethnicity, I hope, will also disappear... in politics in the rest of the world," he said.
Mexican President Felipe Calderon congratulated Obama on his "triumph" in the U.S. presidential elections and invited him to Mexico.
"Calderon today sent a letter in the name of the people and government of Mexico to Senator Barack Obama congratulating him for his triumph in the presidential elections in the United States," the statement said.
The conservative Mexican president expressed a hope to "strengthen and deepen bilateral relations and work to build a better future for the region," the statement said.
French President Nicolas Sarkozy called Obama's U.S. presidential election win "brilliant victory."
"I give you my warmest congratulations and, through me, those of all French people," Sarkozy told Obama in a letter made public by the French presidency. "Your brilliant victory rewards a tireless commitment to serve the American people."
Australian Prime Minister Kevin Rudd said Obama had turned Martin Luther King's dream into a reality .
"Twenty-five years ago Martin Luther King had a dream of an America where men and women would be judged not on the colour of their skin but on the content of their character," Rudd told reporters. "Today what America has done is turn that dream into a reality."
New Zealand Prime Minister Helen Clark also congratulated Obama, saying her country looked forward to building on its already strong relationship with the United States.
"Senator Obama will be taking office at a critical juncture," she said. "There are many pressing challenges facing the international community, including the global financial crisis and global warming."
European Commission President Jose Manuel Barroso congratulated Obama, saying he hoped he could help clinch a "new deal" to end the financial crisis.
"This is a time for a renewed commitment between Europe and the United States of America," Barroso said in a statement. "We need to change the current crisis into a new opportunity. We need a new deal for a new world."
But in Israel, Iraq and Pakistan reaction was cool and guarded.
Typical of the skepticism that has dogged Obama's candidacy in Israel was a headline in the Haaretz newspaper on the eve of the election. It read: "So is Obama a Danger to Israel After All?"
Asked what he thought of Obama's landmark win, Shmuel Harel, who was buying cigarettes in an all-night neighbourhood store in Jerusalem, shook his head and raised his eyebrows in despair.
"It will not be good for us because Obama doesn't really understand how difficult our situation is," Harel said. "He's not tough and the U.S. needs a tough president to handle all the problems in this region."
The major reason that most Israelis have given for being anxious about an Obama presidency is his declared intention to put diplomacy and dialogue with Iran about its nuclear weapons program ahead of confrontation. Some Israelis also worry that Obama will be softer on terrorism than Bush has been.
In Iraq, Foreign Minister Hoshyar Zebari said he did not believe Obama's victory lead to any immediate and great upheavals.
"We believe this is the decision of American voters. We respect their will. But there are many upcoming challenges," said Zebari. "We don't think there will be change in policy overnight. There won't be quick disengagement here. A great deal is at stake here."
The Pakistani embassy in Washington, D.C., issued a statement urging improved relations under an Obama administration.
"President (Asif Ali) Zardari expressed the hope that Pakistan-U.S. relations will be enhanced under the new American leadership that received a popular mandate in Tuesday's poll."
On the streets of Jericho, Moscow, Havana and Beijing, however, there was guarded hope an Obama presidency would improve relations between the U.S. and the rest of the world.
"I like Obama's program because he says he wants to make peace between us and Israel," said Abdullah Najar, a barber in the West Bank oasis of Jericho. "I hate the life we have. Obama is promising change. He is a peaceful man who will not be starting new wars in the Middle East."
Obama's victory "shows that the United States is capable of renewal, which is good for Russia-US relations," said commentator Fyodor Lukyanov, the Moscow-based editor of the journal Russia in Global Affairs.
"Little depends on personalities. But Obama will still be better able to resolve a crisis," said 42-year old Muscovite Nikolai Kozyorov, the director of a travel agency. "He is less aggressive than McCain."
In Cuba, Obama's campaign vow to ease the 46-year-old U.S. trade embargo and his willingness to consider dialogue with the Cuban government were a breath of fresh air after almost eight years of tough talk and hard-line policies from the Bush administration, Cubans said.
"I think with Obama we will have some improvement. We're going to breathe a little, because if the other (McCain) had won we would be in bad shape - and not just the Cubans," said housewife Cristina Recio, 50.
"With Obama, there has to be a relaxing of the policy toward Cuba because he has at least promised to change things such as ending restrictions on trips to Cuba (by Americans) and that will be good for everyone," restaurant employee Diego Lopez, 41, said.
China also welcomed Obama and the excitement of his victory filtered down to the streets of Beijing, where ordinary Chinese citizens who have never voted themselves and some who could not even name the candidates embraced Obama's message of change.
"The black guy is a good choice, he has so much more energy than the other one, who was far too old," said Han Xue, a new father who runs a small cigarette and alcohol store.
"Really I never thought a black man could become president."
(Reuters)
---
Related News
---