Cuba: Ministry for Economy and Planning Approves Agricultural Project in Cienfuegos
Submitted by: admin

11 / 04 / 2008
---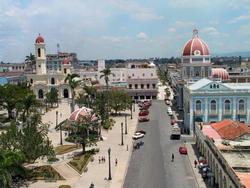 Fernando Linares, delegate from the Cuban Ministry of Agriculture in Cienfuegos, told Prensa Latina that once the feasibility of the project is verified by a study being made by MEP, it will be ready to start the tender phase.
The program is part of the economic integration agreements coming from the Bolivarian Alternative for the Peoples of America (ALBA), counts on funds equivalent to 4.42 million dollars and its particularity consists on four proposals to carry out in Cuban national territory.
This one is the only one benefiting a provincial capital, and includes 11 places integrating all the forms of productive organization in the countryside, besides modernization of agricultural markets in the city of Cienfuegos.
There will also be a biogas plant, using the wastes of an enterprise dedicated to pork cattle breeding in the generation of electric power.
This will be the first industry producing electric power starting from organic wastes, said Linares.
"For example, the program includes assembling a dozen irrigation machines with up-to date technology, with a value in the international market between 70,000 and 80,000 dollars," Linares concluded.
(PL)
---
Related News
---