Cuba and Russia for 1st World Junior Boxing Championship Title
Submitted by: admin

11 / 02 / 2008
---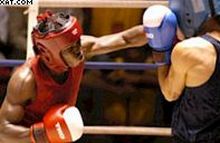 The Cuban athletes won in five combats and they lost just one, since super heavyweight Omar Ibañez was not able to counteract the heavy build of German Erik Brechin, who dominated him in the four rounds, until finishing with a favorable 13-3
score.
The Cuban winners were Yuniel Robles (51 kilograms), Frank Isla (64), Rey Recio (75 kg), Erislandy Savon (91 kg) and Josa A. Larduet (81 kg), who has won all his matches on the tournament so far by RSC and in the semifinals, got the victory
over Italian Gianluca Rosciglione by forfeit.
Robles will go for the gold, fighting Puerto Rican Jonathan Gonzalez, Isla goes against Irish Jamie Kavannagh, Recio against German Enrico Koelling, while Larduet is matching Russian Marten Magomedov and Savon will have Ivan Dychko
(Kazahstan) as his rival.
Russia heads the tournament with 29 points, followed by Cuba(28), and two of their best fighters have lost: Vage Sarukhanyan (60 kg) and Dimitry Bivol (75 kg), who lost 10-2 against Cuban Recio.
The Euro-Asian nation will go to the finals with Grigory Nikolaychuk (48 kg) Magomed Kurbanov (54 kg), Maxim Dadashev (57 kg), Marten Magomedov (81 kg), all with convincing victories in their semifinal matches.
Of the Mexicans that classified to fight for the gold, Oscar R. Valdes (57 kilograms) and Oscar Molina (69 kg), the best demonstration was that by Mexican Olympic featherweight fighter, who finished the semifinal combat on the first round, with
outcome of RSCH.
Valdes will have a hefty opponent in the finals, Russian Dadashev, who went for a walk in his previous combat against Romanian Dragos Marin 6-1.
On the other hand, Molina will have a difficult commitment against strong Uzbekian Boturjon Mahmudov, a man who eliminated clearly German Satula Abdulai, with an 8-6 vote.
For Latin America, besides Cubans and Mexicans, Puerto Rican Jonathan Gonzalez will be the only one in the final program, fighting against Cuban Yuniel Robles.
(ACN)
---
Related News
---