Cuban 110-meter Hurdler Olympic Champion Retires
Submitted by: admin

10 / 30 / 2008
---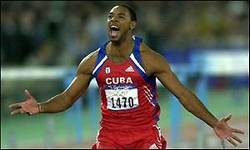 Anier García reached his peak in the summer of 2000 when he was crowned Olympic champion in the men's 110m-hurdles in Sydney, with a 13 flat time.
"I still feel like an active athlete even though I know that the time has come to retire. It's a strange sensation; I'm a little sad and a bit frustrated about what I could have done" explained García.
Following the announcement to the Cuban press about his retirement, the 32-year old from Santiago de Cuba explained to Granma newspaper that repeated injuries prevented him from recovering properly and qualifying for Beijing. He was unable to finish a race in Poland last July: "It was the worst day of my whole career. I felt that I couldn't shake off my injuries and I decided to retire after more than 20 years on the track."
Turning to his victory in Sydney Garcia declared that "It is not my greatest memory because the day was going really well and I felt sure of my chances. I had beaten all of my rivals, including the greatest of them all, the hurdler that I most admire, Allen Johnson from the United States," recalled García.
But he believes that the most outstanding moment of his career occurred four later at the Olympic Games in Athens, when he won the bronze medal.
"That year, I had an injury that I managed to recover from thanks to willpower and discipline, as well as the help of the whole team that was working with me, the trainers led by Santiago (Antunes) and doctors, a physiotherapist and a psychologist. I managed to put in a little extra in every Olympic race up to the final where I gave it my all and won a bronze medal that no one was expecting, not even me," recalled García.
However, there are two titles missing from his career: world champion and world record holder.
"At the World Championships, I hit the same brick wall twice: Johnson, who beat me in 1999 and 2001 and I had to settle for the silver," explained García, who nevertheless won the gold medal at the World Indoor Championships in Paris, 1997.
Aside from that, he also never managed to get his time down to below 13 seconds. "I was really close several times, I even think that I had the potential to break the world record but something always happened, I hit a hurdle or something else and I failed," he explained.
In June of this year, another Cuban racer, Dayron Robles established a new world record with a time of 12.87 seconds, and also raced the distance seven times under 13 seconds this 2008.
Asked about his future the retiring champion said that "I love the idea of passing on the experiences I've had throughout my career to young people, the good things and the bad. But my dream is that one day I'll be my son's coach. He's a bit hyperactive, he's on the go all day long. I'm going to instill in him how good sport is but it's up to him to choose what he wants to do after that. The most important thing is that he feels fulfilled by what he's doing," concluded García.
 (ACN)
---
Related News
---