Famous Italian Group to Perform in Cuba
Submitted by: admin

10 / 22 / 2008
---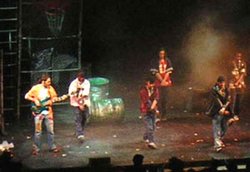 The group will present their show 'Streetlight', which involves musicians, singers and dancers of nine different nationalities. They use music to spread the idea of a more united and friendly world.
Gen Rosso, which was awarded UNESCO's Education and Peace Prize, was created in 1966 on the initiative of Chiara Lubich. Thus far, the group has offered one thousand 500 concerts to an estimated audience of
four million people. It has carried out 150 international tours, performed in 40 nations and recorded 50 albums, totalling 200 songs in 24 different languages.
The group is sponsored by the 'youth for a united world' association, which has representatives in more than 180 nations. The association advocates a united, peaceful world without barriers or discriminatory policies of any kind.
"Streetlight" is based on a true story: the story of a black young man (Charles Moates), who was murdered in the 1960s for opposing violence and believing in a better future for his people.
In "Streetligtht", Gen Rosso combines different contemporary rhythms, in a style similar to that of the African-American groups, particularly their funk: acoustic guitar, country, Italian traditional music or ethnic music.
"Streetligtht has toured several Italian and US cities.
(AIN)
---
Related News
---