Universal and Cuban painting treasures at the National Arts Museum
Submitted by: admin

10 / 20 / 2008
---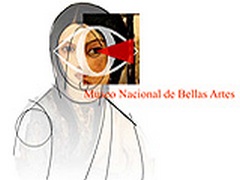 The National Arts Museum of Havana (MNBA) preserve and exhibit in its three big, beautiful and rebuilt buildings a big pictorial exhibition of the Cuban and universal artistic creation, which some have unofficially valued in over seven hundred millions USD, even though authorities and specialists usually do not value its famous treasures, out of which about 40% are exposed.
However, the attraction starts from the distant Hispanic – Cuban colonial stage, that adds the wonderful landscapes from Matanzas, made by Chartrand and the Cuban characteristics of Landaluce, the so called – change of century – of the XIX to the XX Centuries, with the works of Menocal and Romañach and of the avant-garde of the first half of the XX century with the works of Abela, Amelia Peláez and Wifredo Lam, with La gitana tropical, as the most representative of those years. From Amelia we can see La liebre and Naturaleza muerta con piña and from Lam, El tercer mundo and La silla.
From the last years of the XX century, the museum exhibits a big and appreciated work by de Servando Cabrera Moreno, Raúl Martínez and Antonia Eiriz,, as well as from Fabelo, Proenza, Mendive, Tomás Sánchez, Bedia, Moisés Finalé and of the contemporary KCHO, among many other, well preserved assets that can be seen in the modern halls of the Palacio de Bellas Artes, located in front of the Museum of Revolution, that was the Presidential Palace of the Cuban Government before 1959.
The Universal Gallery is located at the old Centro Asturiano, in front of the Central Park, in one of the most beautiful buildings in Havana. There we can find the famous and valuable Collection of the Cont of Lagunillas, with legitimate works of art, from Roma, as well as other valuable objects from the old Mediterranean countries. We can also find the XVIII century British Portraits and from France we can see the beautiful paintings by Courbet, Delacroix and Ingres, from Germany there are the works of Lucas Cranach and from Holland and Flanders there are valuable works from the prestigious Rembrandt workshop, with its particular stile.
In the hall we can see the great Spanish collection, with its Sorolla inventories, which have been exhibited abroad, as well as the Greco, Zurbarán and Murillo schools.
The MNBA from Havana has a central third building from the XVIII, which was renovated and is the place for transitory exhibitions. This building also has a restoration and preservation workshop, as well as the main warehouses.
In its restoration works it has several specialists of the Preservation and Restoration Degree, which exist for a decade in the capital city. It is a group of young experts who make marquetry in paper and easel, cleaning, repaints as well as other specialised works of the Cuban entity, which is also very visited by Cuban and foreigners from all over the world.
(www.radiorebelde.com.cu)
---
Related News
---