Cuban President Raul Castro attended on Sunday the consecration Russian Orthodox Cathedral
Submitted by: admin

10 / 20 / 2008
---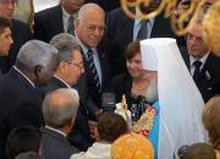 The beautiful building, in the capital"s historic center, was opened with a ceremony officiated by His Eminence Kiril Metropolita of Smolensk and Kaliningrad and president of Moscow"s Patriarchate Religious Foreign Affairs Department.
Kiril heads the ecclesiastical group of the Russian delegation, which is visiting the Island to participate in the activities for the Day of Russia in Cuba, as part of a tour of several Latin American countries to present culture and traditions.
Historian of the city of Havana Eusebio Leal said that after four years working, they were proceeding to present the work, which was especially approved by the Revolution"s leader Fidel Castro.
He called it as a symbol of friendship and solidarity, as well as the cemetery, located in the outskirts of Havana that keeps the remains of collaborators and military officers from that country that have proved their solidarity with Cuba and will never be forgotten, he said.
I wish good health to the Russia"s Great Patriarch Alexei II, and the Russian people, unswerving friend of the largest of the Antilles, said Leal.
His Eminence Kiril asserted that this day will be recalled for hundreds of years. He remembered his meeting with Fidel Castro, years ago, and praised his decision of supporting contruction of this Cathedral.
This is an monument to the Russian-Cuban friendship and to all efforts that preserved our relations, even in the most difficult moments of the Cold War, as well as a part of the holy Russia in Cuba, he asserted.
He thanked President Raul Castro and all Cubans for making this project come true, with national resources, and said there is no other example of a similar building in the world, made by the people of the country where it is located.
Then, he gave decorations signed by Patriarch Alexei II, honoring their work to achieve this objective to Caridad Diego, head of the Office for Religious Affairs of the Cuban Communist Party Central Committee and historian Eusebio Leal.
Other Cuban leaders that attended the ceremony were State Council Vicepresident Esteban Lazo, Ricardo Alarcon, Parliament president, and Ricardo Cabrisas, vicepresident of the Minister Council.
(PL)
---
Related News
---