In Pinar del Río, Cuba: Renal condition patients do continuous ambulatory peritoneal dialysis (CAPD)
Submitted by: admin

10 / 19 / 2008
---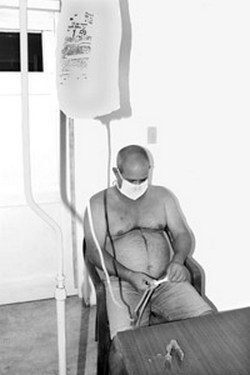 Marcos Cavo Hernández and Reiner Sosa Sánchez, both patients of Comandante Pinares Hospital of San Cristóbal municipality, take part since last December in a study aimed at demonstrating the viable application of this method in Cuba.
The experiment is directed by the Nephrology Institute and supported by a prestigious foreign firm that donates the equipment for a year. This Pinar hospital was included because of the outstanding results achieved in the hemodialysis ward, which makes their patients' life expectancy surpasses the 14 years.
"I did not imagine the many benefits of this new technique. I have read them, but you have to see it to realize the advantages for the patients", affirms Doctor Orosmán Cuesta Panaco, Nephrology specialist and head of that service in the institution.
The return to life
Marcos Cavo Hernández is a 47 year-old Physical Culture bachelor and in 2004 was diagnosed chronic renal insufficiency.
In that moment he had just arrived from a mission in Venezuela and confesses that during a year and a half (the time the cooperation lasted) he did not care much of his high blood pressure nor of his slight kidney problems.
"The hemodialysis was something that affected me lot. I was traumatized because it changed my life completely. However I had a great support by doctor Orosmán, someone who heals with the talking, he helped me a lot, since always told me the truth.
"I also had the total support of my family, especially of my wife. I live with her and my 21 year old daughter".
The day we met Marcos, we were surprised to see him arrive running until the car that took us to Las Terrazas, where he lives since graduated in 1985. The strong hand shake and the healthy look he had were not typical of a person with such a serious renal problem.
"When I was first told about the peritoneal dialysis I felt some rejection because I didn't know what it was about. But seeing the process I accepted it 100 %, and I am another person now.
"The problem with the hemodialysis was the catheter. I do not know if Doctor Orosmán realized that, but when he took the catheter off me, I became the happiest man on Earth.
"I'm a normal person now. I work. I was former director of the community school in the sport area, but now I'm a Physical Culture technician and run my lessons normal, and work out as well".
Cavo Hernández is very grateful to Las Terrazas complex direction for the help given in everything he has needed; they built the room in which he does the CAPD and give him the diet he needs for free.
"In any other part of the world, someone like me could not have this treatment due to its expensive cost, since it reaches 11 000 dollars just in the disposable material. I was aware of what the Revolution means, but today I know it much more", affirms.
Back to light
At his 33 years old Reiner Sosa Sánchez continues blind, but is back to light. "Hemodialysis was absorbing me little by little, because it was very strong. It brings many risks like hepatitis or low blood pressure, but more than everything I was psychologically affected. I got home wanting to do nothing, not even talk. It was three times a week for three hours and a half each session.
"Now my life is completely different. For example, earlier I had to control the consumption of liquids, but not anymore, since I have a good drainage and keep no liquid, so I can drink as much as I like".
Sosa Sánchez is diabetic since he was 1 year old. At the age of 22 he lost the sight due to the problems caused by diabetic retinopathy and the glaucoma.
"Under the hemodialysis treatment I barely went out. Now I go alone to cut my hair and to the disco because I love music. I am a rehabilitated blind, since I do everything by myself.
Rosario Esther Sánchez, her mother, affirms he is much more recovered in all aspects, the color of his skin and hair has changed, and he has gained weight.
"I'm very happy for him, his joy is mine too, as it is his sadness, but I don't have his willpower to move on, when he has any problem my world collapses".
Collapsed and scared, felt Rosario when she was told of the new technique she had to learn to help her son.
Everyone in the family, but Reinier, was scared, because it was something unknown. Besides, some people said it was very dangerous since it is done in the peritoneum. I was trained in a course in Havana and now I see the results".
This young man would like to retake the Social Communication career, since had to drop out in October 2005 when he was diagnosed the chronic renal insufficiency.
When the organism acts
Doctor Orosmán explains than the ACPD is physiological treatment since there are no machines, it is the organism who acts.
"That makes everything easier for the patients. Besides, although it is done at home is not a burden to the family, on the contrary is a relief since it allows the patient to be near his loved ones all the time.
"The most frequent complication is the primary peritonitis, but with opportune measures there are no risks", affirms.
This method is expensive but cheaper than hemodialysis since it does not require the additional expenses or a salary for employees.
The specialist considers that in a country like Cuba, with 10 or 15 percent of its population suffering form chronic renal insufficiency, the future possibility is that all the people who have the conditions for it should receive this kind of dialysis, until a kidney transplant comes.
And something that was recently ratified increases the advantages of this technique for the Cuban patients: in case of hurricanes, those with renal insufficiency are admitted in a hospital to receive the dialysis, but those who do ACPD are not.
That is why during the passage of Gustav and Ike through the province, both Marcos and Reinier continued the treatment at home.
The roof of the room where the professor that lives in Las Terrazas do the ACPD, was ripped off by the hurricanes, but few hours later the direction of the complex restored the place so that he continues with this experience that encouragingly aims the future.
(Guerrillero.co.cu)
---
Related News
---