More than a million members of José Martí Pioneer Organization chose the leaders an exercise in Cuban Democracy
Submitted by: admin

10 / 19 / 2008
---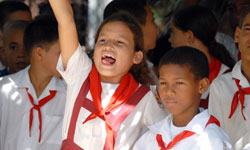 A total of 9,347 students in Cuban elementary and secondary school levels were chosen on Friday to serve as presidents or heads of collectives in different educational centers across the islandA total of 9,347 students in Cuban elementary and secondary school levels were chosen on Friday to serve as presidents or heads of collectives in different educational centers across the island Photo: Roberto SuárezZoom
More than a million members of José Martí Pioneer Organization on Friday chose the leaders who will represent to them.
A total of 9,347 students in Cuban elementary and secondary school levels were chosen on Friday to serve as presidents or heads of collectives in different educational centers across the island.
Those more than 1.4 million members of José Martí Pioneer Organization (OPJM) participated in the process in which the principles of democracy were applied in educational institutions.
In elementary schools, youth selected their leaders by raising their hands, while at the secondary level they cast their ballots in secret.
"I will not betray the trust that my comrades have entrusted in me," said an excited Marla Alfonso, one of those who was selected as a head of a collective at the Raúl Gómez García Elementary School in the Cuban capital.
A fellow student said that she was elected because of her "excellent performance, and her charisma and overall integrity."
Also on Friday, in addition to carrying out elections to the Pioneer organization, more than 141,000 fourth grade students joined the Pioneer Scouts Movement and 132,000 first graders became Cub Scouts.
(PL)    
---
Related News
---