Renowned Cuban pianist Frank Fernández held a performance at the Tchaikovsky Conservatory in Moscow
Submitted by: admin

10 / 12 / 2008
---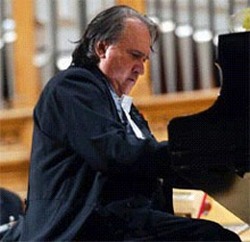 "The participation of the famous Cuban artist at the gala filled us all with great pride," said Cuban Ambassador to Moscow Juan Valdés.
Fernández, who has performed at the Moscow conservatory -- regarded as a temple of world culture -- 16 times, said that this weekend's performance was different. "This was my sixth presentation at the Tchaikovski conservatory's main concert hall and the first time I shared the piano solo with another pianist, Brazilian Joao Donato -- known as the King of Bossa Nova," said the author of pieces like 'Zapateo por Derecho'.
During the gala, Donato, accompanied by the Moscow Symphony Orchestra conducted by Serguei Sumbatián, played the first part of world-famous pieces composed by him and by other great musicians like Joao Gilberto.
"My repertoire included a homage to great Cuban musician José White with the piece 'La Bella Cubana', to commemorate the 90th anniversary of his death this year. The audience then listened to three danza pieces composed by Ernesto Lecuona for piano," Fernandez commented.
"The three pieces 'Comparsa', 'Danza Negra' and 'Malagueña', were originally composed for piano solo, but I arranged them for a symphony orchestra," he added.
In orchestrating Lecuona's pieces, Fernandez was assisted by maestros Mario Romeo (pianist, music arranger and orchestra conductor) and Roberto Sánchez Ferrer (director of the Havana-based Teatro Lírico).
"In closing the gala, I played 'Rhapsody in Blue', composed by George Gerswing, in its original symphony version by Ferdé Grofé," the artist said.
The world-famous Cuban pianist pointed to the use of drums, which although appear on the original score is hardly used in presentations at the concert halls.
Fernández was accompanied by 22-year-old drummer Rui Adrián López- Nussa, who comes from a famous Cuban family of great musicians.
"López-Nussa also played the Bossa-nova pieces, invited by Donato," Fernandez concluded.
(Cubarte)
---
Related News
---