Cuban First Vice President José Ramón Machado Ventura toure the Isla de la Juventud
Submitted by: admin

10 / 07 / 2008
---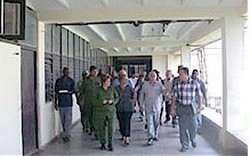 Ventura encouraged locals to work harder and efficiently to guarantee future wellbeing in the area.
After visiting different economic facilities, Ventura assessed the recovery works as very satisfactory.
In a meeting with the municipal Defense Council, he was briefed on the development of the recovery strategy, and praised the efforts made by the public to build a better place to live.
He highlighted the importance of the region having its own agriculture and construction workforce as the only way to face the challenges to come once the recovery phase is over. Likewise, he stressed the political will of the country to continue providing resources.
Ventura stressed that the emergency situation is affecting the whole country, and therefore aid provided cannot now be as intensive as it was when Hurricane Gustav singled out the areas of Pinar del Río and the Isla de la Juventud only.
Cooperation and solidarity brigades, he said, will continue to work in the affected areas. He acknowledged the swiftness with which Isla de la Juventud residents have made use of resources and materials provided, and control has been maintained by the heads of the Defense Zones.
Machado witnessed a situation different from that shown on TV after the hurricanes hit the region. "Although there are many problems to be resolved, there are many places where damage is no longer visible, flowers are blooming again and the fields are turning green," he said.
Machado Ventura toured the Captain Lawton Basic Unit of Cooperative Production (UBPC) and spoke with the young people members with the 50th Anniversary of the Revolution Young Brigade, who came from eight different provinces to work on food production. They sent Fidel Castro a message saying that they would remain on the Isla de la Juventud as long as necessary.
Ventura also made inquiries on the development of the strategy for the restoration of the electric network, the conditions of local bakeries, the storage of food in freezers, the situation of the local Pescaisla fishing company, the marine transport of different resources through the Manuel Porto Dapena Harbor, and the reconstruction of the Carlos Manuel de Céspedes Teaching Higher School.
(ACN)
---
Related News
---