Cuba would continue fight against aggression
Submitted by: admin

10 / 05 / 2008
---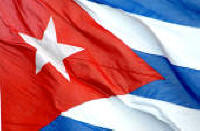 "The Economic blockade put in place by the United States of America has failed and the people of Cuba would continue to fight against imperialist and neo-colonialist policies being pursued by developed countries to weaken the economies of developing nations."
Mr. Fernandez de Cossio was speaking at a forum organised by the Cuban Solidarity Campaign (CSC) Ghana, a pressure group, to interact with Cuban delegation who attended the European Union (EU)-African Caribbean and Pacific (ACP) summit in Ghana.
"Economy of Cuba has been weakened by the recent hurricane which hit the country, high prices of food, aggression by U.S.A in the area of economic warfare which has cost the country more than 100 billion dollars," he said.
He said the hurricane has affected the agricultural, housing and energy sectors, adding that, Cuba is already opposed to trade agreements which would not be in the interest of its economy.
"Cubans are strong–hearted people and they have proved that they can withstand challenges and continue to be resilient against any aggression," he said
Mr. Fernandez de Cossio said the five Cubans were imprisoned in the U.S because of their desire to prove that the judiciary in the U.S and the government were engaged in acts of terrorism.
He expressed gratitude to members of CSC Ghana for their support in fighting for the release of the 5 jailed Cubans.
Mr. Kwesi Pratt Jnr, Managing Editor of the Insight Newspaper urged developing countries in Africa to come together and resist the machinations of imperialism.
"Cubans come to Africa with their medical equipment and staff to save lives but do not come to take over our national assets. Eighty percent of European imports into Africa are without taxation and people are struggling with all manner of threats including environmental degradation". He said
Dr. Ben Adu, Member of CSC Ghana, said it was unfortunate that developed countries were not content witheir economic resources and were rather making attempts to grab those belonging to countries with weaker economies.
Dr. Adu called for support for Cuba in their fight against aggression and terrorist moves by U.S.
Mr. Ekow Essuman, veteran journalist at Ghana Palava newspaper was awarded the Medal for the Comrade of Friendship for his persistent struggle against imperialism and for supporting the cause of Cubans.
It was presented to him by Marcos Rodriguez, Cuba's Deputy Minister for Foreign Affairs.
Mr. Essuman said the receipt of the award was proof that the fight to end imperialism had not been in vain and urged Africans not to relent in their efforts to fight against it.
---
Related News
---