The Cuban actress Mirtha Ibarra to have her debut as director with Titón
Submitted by: admin

10 / 01 / 2008
---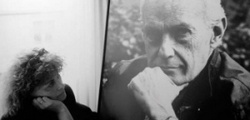 Ibarra, who also presided the jury in the Horizontes section, where there were fourteen Latin American movies competing, assisted in the Basque city to the world premiere of Titón, de La Habana a Guantanamera (Titón, from Havana to Guantanamera), a ninety-three minutes long documentary which will be presented afterwards in the Havana Latin American New Movie Festival, from December 2nd to 12th.
The actress, who is 62 years old and was the partner of Gutiérrez Alea, (1928-1996) for 23 years, aims to "awake the interest in spectators over this filmmaker," by "knowing his work deeply" and "the coherence between his everyday life and his work," explained to the AFP.
The idea of making a documentary came up after the death of Titón, the alias of Tomás Gutiérrez Alea. "I began to read all of his letters" this took her several years. "I realized that that was an indispensable material to understand Cuban cinematography and that it was part of Cuban culture."
Ibarra decided then to make the book Tomás Gutiérrez Alea, volver sobre mis pasos (Tomás Gutiérrez Alea, to walk over my steps), by collecting the letters of the director from 1953 to 1996 with people "from universal culture," which revealed a lot of the ways and efforts by Titón to create a cinematography with an identity of its own."
When writing the book, which includes a chapter, in which Mirtha talks about the director, his life and work, she thought about making a documentary that included the voice of Gutiérrez Alea, with interviews in which he talks about his movies, as well as the point of view of the actress as well as friends and actors.
Ibarra spent almost two years researching, looking for interviews in Cuban archives to Gutierrez Alea. She also looked in Spain and other countries for interviews with the applauded director of movies such as Strawberry and Chocolate (1993), Guantanamera (1995), Cartas del parque (1988) and La última cena(1976) in which Ibarra performs.
The actress had been already three times in the Festival of Saint Sebastian, the first one in 1984 with Gutiérrez Alea, who was a jury, afterwards in 1988 to present Cartas del Parque and in the year 2000, without him already, as a jury of the official section.
This year, she presided over the jury for the Horizontes section of Latin American movies, in which competed fourteen movies and the movie Memories of Underdevelopment (1968) was presented. This is one of the most representative movies of Gutiérrez Alea and Cuban cinema.
In front of a great number of new directors and difficult themes, the actress declares that "Latin American reality is well reflected, in all of its complexity and contradictions."
Mirtha Ibarra has just shot El cuerno de la abundancia by Juan Carlos Tabío, with Jorge Perugorría and Vladimir Cruz, the other cast members who worked with her in Strawberry and Chocolate, directed by Gutiérrez Alea and Tabío.
Currently, she is preparing a monologue for the theater, after having written Obsesión habanera (Havana Obsession).
(AFP)          
---
Related News
---