Chess: Dominguez rises to 2,719 Cuban ELO record
---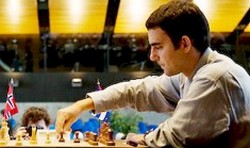 Dominguez went to the place 21 at the new list of the Chess International Federation (FIDE) and he surpasses in 11 points his points gained from July to September, which were 2,708.
This is the seventh consecutive improvement and it is the sixth new limit for Cuba since April 2007, when he had 2,678 points and on 30th place.
Dominguez' excellent performance at the super tournaments of Biel (Switzerland) and Magistral Sarajevo (Bosnia) made him to be number one of Latin America.
In The Americas Dominguez is only surpassed by U.S. Gata Kamsky who has 2,729 points and is located on place 16.
The exclusive mark of 2,700 is surpassed by 32 GM, led by Bulgarian Vesselin Topalov with 2,791 points.
Topalov is followed by Russian Alexander Morozevich with 2,787 points, Ukrainian Vassily Ivanchuk and Norwegian Magnus Carlsen both with 2,786.
(ACN)
---
Related News
---