In Havana: Homage to Naborí on his 86th Birthday Anniversary
Submitted by: admin

09 / 28 / 2008
---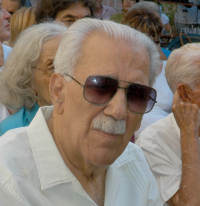 During the activity, María Eugenia Ascuy, who worked for several years alongside the renowned Cuban poet, spoke about the vast work of Naborí --an important Cuban cultural figure, whom the Cuban people fondly calls the king of Espinela, the creator of Decima Guajira and the poet of the Revolution.
The ceremony also included performances by Maestro Efraín Amador Piñeiro (guitar) and actress Alicia Fernán.
Born on September 30th, Naborí became a well-known repentista at a very young age. He later decided to abandon the stage and dedicated himself to writing poetry.
Considered the most important writer of Cuban decima of the 20th century, Naborí's vast work also includes sonnets and free verses.
A poet committed to the cause of his people and the Revolution, Naborí wrote several patriotic poems. His poetry books include, among other titles: 'De Hatuey a Fidel', 'El pulso del tiempo', 'Al son de la historia', 'Esto tiene un nombre' and 'Breves apuntes para la epopeya'.
He also wrote what is called intimist poems, compiled in several poetry books, among them: 'Elegías a Noel', 'Boda profunda', 'Entre el reloj y los espejos', 'Desde un mirador profundo', 'Con tus ojos míos', 'Cristal de aumento' and 'Por tu milagro sonoro' –Naborí's last book published while he was still alive.
Prefaced by poet Waldo González López and illustrated by renowned artist José Luis Posada, 'Por tu milagro sonoro' was released in 2001 by the publishing house of the José Martí Cultural Society.
 (Cubarte)
---
Related News
---