The Cubans Roberto Varela, the Camerata Romeu and Zenaidita Castro are nominated to the Latin Grammy
Submitted by: admin

09 / 24 / 2008
---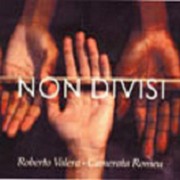 The CD, nominated to the Cuban music festival Cubadisco 2008 in the category of chamber music, was produced by the record company Colibrí, directed by Gloria Ochoa. Roberto Valera explained that it includes five pieces composed for piano and string orchestra and a special presentation by pianist Marcos Madrigal.
Pieces in the CD include 'Ché, hoy y siempre', 'La lenta noche de tus ojos' and 'Caribbean Suite' --rated as popular music and composed almost all of them for the Camerata Romeu at different times. It features traditional Cuban rhythms, using different styles.
"To me, the CD means unity and strength," said Varela. The title 'Non divisi' means 'for every one to play'. I compose music mainly for the Camerata and for several choirs. The Camerata is made up of all-talented and beautiful women. This nomination to the Grammy awards makes us reflect about our work and Cuban music in general."
Zenaidita for her part said that "Valera is one of the composers who write music for the Camerata. He has composed many pieces for us and we wanted to include them all on a new CD, with the help of an excellent sound engineer, José Raúl Varona. The CD design is very attractive with photos by Eric Col."
Roberto Tomás Valera Chamizo, who will turn 70 years of age on December 21st, studied music in conservatories in Poland from 1965 to 1967. He has worked with ICAIC, composing the soundtrack of several Cuban films. His piece ´Iré a Santiago' is very popular, sung by Cuban choirs. He has also composed music for Cuba's Symphony Orchestra and for several radio and TV programs, as well as his electroacoustic music and pieces for piano.
The Camerata Romeo, the first group of its kind ever in Cuba, is celebrating its 10th anniversary this year -- founded under the auspices of Pablo Milanés.
"Zenaidita Romeo, with a brilliant professional career, is a talented and hardworking woman. She's from a family of renowned musicians. I remember her beginnings, organizing and rehearsing with her orchestra in her own house, located in the Havana neighborhood of Miramar. I went to see her, along with Spanish producer Luis Domínguez. Right from the beginning, we knew she would go a long way."
(Cubarte)
---
Related News
---