Miami nuns put politics aside to help storm-battered Cuba
Submitted by: admin

09 / 21 / 2008
---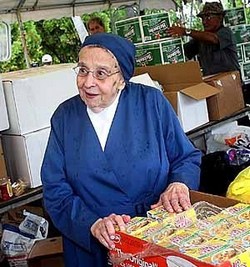 Behind the yellow tape blocking the side street in a residential neighborhood in Miami, dozens of volunteers under white tents pack empty Corona boxes with juice, beans, rice and medicines. Sister Rafaela Gonzalez, a sprightly 75, directs the action as the beep, beep, beep of a forklift topped with bottles of water alerts volunteers to move out of the way.
''This has been my job for 30 years,'' she says, smiling.
Her ''job'' in the Catholic order of the Daughters of Charity of St. Vincent de Paul is to serve the poor with good deeds as much as kind words. Feed the hungry, give drink to the thirsty, clothe the naked, shelter the homeless -- Catholic works of mercy that know no political boundaries, only God's love.
As people from Miami to Washington debate loosening travel rules or the U.S. trade embargo toward Cuba after two back-to-back hurricanes, the nuns have nothing to debate. Their No. 1 job is saving lives as much as souls. The politicians and the demagogues can point fingers and raise suspicion about donated goods being skimmed by Cuban government officials, but the nuns have 14 years of experience seeing their containers get in the right hands.
Now is no time to debate. It's time to do -- and our community knows it.
The Daughters of Charity have found overwhelming support from South Florida residents eager to help more than a million Cubans left homeless by hurricanes Gustav and Ike. They're also helping direct supplies to two local Catholic churches -- Notre Dame and St. James -- that are organizing shipments to Haiti.
In just six days, the sisters have sent four 40-foot containers with $100,000 worth of food, water and medicines to the Port of Havana. Two of those containers already are feeding people in hard-hit Pinar del Río province. On Thursday, they prepared another two long containers as dozens of volunteers worked in synchronized fashion to categorize and pack boxes and fill the trucks.
Hialeah High School students dropped off a truckload of donated goods by noon.
(www.miamiherald.com)
---
Related News
---