Cuba Prepared to Confront Gustav
Submitted by: admin

08 / 30 / 2008
---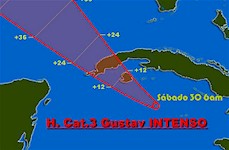 Prepared to confront GustavPRESIDENT Raúl Castro has expressed his confidence in the skillful response of Pinar del Río to meteorological events in a telephone communication with authorities in the province.
The president inquired about measures adopted and emphasized the imperative of safeguarding human lives and material goods.
He was also informed of preparations in the capital in the face of the threat of Hurricane Gustav. In a phone conversation with Pedro Sáez, member of the Political Bureau and president of the Defense Council in Havana, during a meeting of this agency after the hurricane alert was declared, Raúl noted that just as the people are prepared for defense, they will also win this battle against nature.
He pointed to the need to maximize Civil Defense measures aimed at avoiding human losses and reducing material losses to the minimum, in particular as the coming days could see an unusual situation with other atmospheric organisms in the Caribbean
Carlos Lage Dávila, vice president of the Council of State, visited Pinar del Río province and confirmed actions undertaken to protect the population and minimize damage.
"Nobody is more expert on hurricanes than the people here, but we must reiterate all the directions as if it was the first time," he stated.
He called on the population to prepare for a very intensive event and take all necessary measures to initiate the recovery process at top speed after Gustav has passed.
In that context he mentioned the 577 generating units that sustain the main objectives of the economy and services, cable communication with almost all municipalities, and the availability of basic foodstuffs for prior distribution.
On Friday more than 12,900 people living in areas of risk were evacuated and the 6.947 beach and camping vacationists were transported to their homes.
It was reported that the schools of medicine located in the Sandino municipality, with an enrolment of 3,970 students of 27 nationalities, have all the conditions to guarantee their security.
Various medical brigades left yesterday afternoon for localities that are generally left incommunicado by overflowing rivers.
(Granma International)
---
Related News
---