Hurricane Gustav: Category 3 Heading for Cuba
Submitted by: admin

08 / 30 / 2008
---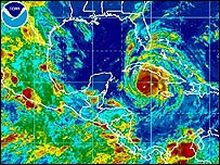 Doctor Jose Rubiera, director of the Weather Forecast Department of the Cuban Meteorological Institute (INSMET), said the organization of Gustav shows that this will be worse than others having affected Cuba.
Rubiera called to increase preventive measures and keep information on the hurricane's evolution,
Gustav is getting stronger in intensity, and heading the Isle of Youth slowly. The warm waters of the Caribbean Sea have favored its strengthening, and it now has a very wide rain and winds area, covering the whole west of Cuba.
As wide as its impact may be, stops how precise weather forecasts could really be, and according to its current movement speed, Cuba will be affected during Saturday and Sunday.
Rains will cover from the eastern province of Camaguey up to the western provinces of Matanzas, Havana, Havana City and Pinar del Rio. There will also be great sea swells and coast floods in the southern coast.
Floods will mainly affect the coasts of Pinar del Rio and Havana, winds will be felt in the Isle of Youth starting in the morning.
The Cuban capital will start receiving strong winds in the afternoon of Saturday, so the alarm stage was decreed for all the western provinces.
The most recent weather report said Gustav moves northwest, on a speed of 11.8 mph, sustained winds on 120 mph, with higher gusts and a central pressure of 955 hectoPascal, still dropping.
(PL)
---
Related News
---