Cuban program for early detection of congenital adrenal hyperplasia
Submitted by: admin

08 / 29 / 2008
---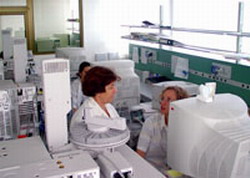 A program for early detection of congenital adrenal hyperplasia is currently developed by specialists and paramedic personnel of the North Children's Hospital Endocrinology Department in Santiago de Cuba.
What causes this hereditary autosomic recessive disease is a cortisol deficit from cholesterol in the adrenal glands, and ambiguity in defining the sex of newborn babies is one of its consequences.
Although there is no significant incidence of the illness in Cuba, two little patients have been detected in this eastern province, and are being assisted by a multidisciplinary team composed of endocrinologists, geneticists, urologists, pediatricians, and others.
The two-year research project uses the Immunoassay Center diagnostic plan, in coordination with family doctor offices and the Ultra-microanalytic laboratories of the Juan Bruno Zayas General Hospital.
Deficiency of the 21-hydroxilase enzyme, occurring in 90-95 percent of cases, is the most common cause of ambiguous genitals in newborn babies, the most frequent endocrine cause of death in newborns and the most common cause of congenital suprarenal hyperplasia.
Incidence is one in 14,000 children born alive.
The symptoms and signs in newborn babies include lack of appetite, vomiting, diarrhea, dehydration, hypotension, and weight loss, with circulatory collapse and death in untreated patients.
Source: Prensa Latina
---
Related News
---