Gustav kills 22 in Caribbean, heads to Cuba and Mexico Gulf
Submitted by: admin

08 / 28 / 2008
---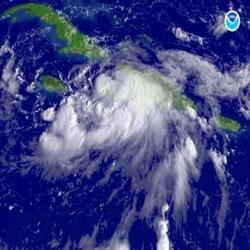 The eye of the storm was expected to pass "very close" to Jamaica later Thursday, the US National Hurricane Center said, while 50,000 people were evacuated from zones at risk in eastern Cuba.
Gustav, which struck Haiti as a Category One hurricane on Tuesday, could regain hurricane strength by Friday, the hurricane center warned.
The storm pushed oil prices higher on fears that the storm could strike rigs when it moves to the Gulf of Mexico.
Blowing winds of 75 kilometers per hour (45 miles), Gustav was located about 130 kilometers (80 miles) northeast of Kingston and 165 kilometers (105 miles) southwest of Guantanamo, Cuba, the center said in its latest advisory.
With memories of the devastation caused by Hurricane Katrina in 2005 still fresh, US federal and Louisiana state authorities prepared for the worse to avoid repeating the botched disaster response of three years ago.
Louisiana Governor Bobby Jindal declared a state of emergency and announced plans to begin evacuating coastal areas ahead of the storm.
"As long as there is a chance that we'll be in this storm, I'll be here in Louisiana," said Jindal, warning he may miss next week's Republican National Convention to nominate John McCain as the party's candidate for the White House.
The hurricane center's five-day forecasting map shows Gustav could strike southeastern Louisiana on Monday evening as a hurricane.
The US Department of Homeland Security urged Gulf Coast residents to get ready for the storm, with the city of New Orleans in its possible path.
"Regardless of its predicted path, it is important for citizens in the Gulf Coast region to listen to what their local officials are advising over the course of the next few days and to take these simple steps to prepare," said Homeland Security Secretary Michael Chertoff.
New Orleans Mayor Ray Nagin, who was criticized for his administration's botched response to Katrina, made plans to leave the Democratic National Convention early so he could also help the city prepare for the storm.
The Cuban Meteorological Institute said Gustav could strengthen to a Category Two or Three hurricane on the five-level Saffir-Simpson scale, with five being the most powerful kind.
The Cuban government has downgraded its hurricane warning for the eastern province of Granma with a tropical storm warning and other hurricane watches were dropped, the US National Hurricane Center said.
The hurricane center's forecasting map shows Gustav could make landfall in western Cuba as a hurricane on Saturday.
Jamaica and the tiny Cayman Islands, a British territory, were under a hurricane watch.
But Jamaican tourism interests did not expect any fall out.
Josef Forstmayer, an executive of the Jamaica Hotel and Tourism Association, said things should be "pretty much back to normal" after Thursday.
In Haiti, at least 14 people died and seven were injured, mainly the southeast, as roofs flew off houses and electricity pylons were ripped away by violent winds, authorities said.
In the Dominican Republic, which shares the island of Hispaniola with Haiti, eight people were killed in a mudslide caused by the storm.
The victims were members of the same family who had just returned home after evacuating two weeks ago, believing it safe after Tropical Storm Fay earlier this month, officials said.
Fay pummeled the Caribbean and left at least 47 people dead or missing, most of them in Haiti. The storm killed 11 more people in Florida.
---
Related News
---