US Lawyer Leonard Weinglass to Explain Cuban Five in Chile
Submitted by: admin

08 / 28 / 2008
---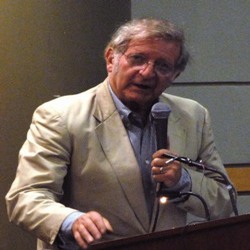 Weinglass has been invited to expose the case at the Central University Human Rights Study Center, led by Ex Judge Juan Guzman and the Coordinator of Solidarity with Cuba.
Weinglass will also lecture at Universidad de Arte y Ciencias Sociales, meet with the press and with ex Judge Guzman, know for trying ex dictator Augusto Pinochet, other human rights cases and in defence of Mapuche communities.
Guzman attended the Cuban Five hearing in Atlanta in 2007 and on his return and after studying the dossier, he exposed numerous legal loopholes.
Weinglass will also meet with members of the Chilean branch of the Association of Latin American Lawyers, Congress officials and other authorities and will up date local solidarity efforts to release the Cuban Five.
His visit occurs on the tenth anniversary of the jailing of Gerardo Hernandez, Ramon Labanino, Antonio Guerrero, Fernando Gonzalez and Rene Gonzalez for working against Florida-based anti-Cuba terrorist groups.
The Cuban Five were arrested and tried in 1998 in Florida, US, a state with a long history of hostilities against Cuba. They were given abusive sentences to be served in high security prisons.
Gerardo Hernandez was given two life sentences, Antonio Guerrero and Ramon Labanino got one life sentence each, Fernando Gonzalez was given 19 years and Rene Gonzalez 15 years.
Two years later, a panel of three Judges from the Court of Appeal of Atlanta annulled all the sentences because it was not a fair trial, but the sentences were reinstated by 12 Judges from the 11th Circuit of the Court of Appeals.
The UN Work Group on Arbitrary Detentions studied the Cuban five arbitrary imprisonments and called the US government to adopt measures to correct the wrongdoing.
The parties exposed their arguments and answered questions at the 2007 hearing with the panel of three Judges from the 11th Circuit of the Court of Appeals of Atlanta as they did on March 2004 and February 2006.
But the panel confirmed the sentences last June and sent them back to the Courts of Miami for new trials.
(PL)
---
Related News
---