One of the best Cuban pianists, Frank Emilio to be remembered in the anniversary of his death
Submitted by: admin

08 / 28 / 2008
---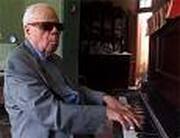 Being blind, the famous artist had to go over many difficulties in order to learn music and the acquisition of a solid culture, which turned him into one of the most famous performers in universal repertoire.
When he was only thirteen years old, he was already performing in small broadcasting stations from the capital and shortly afterwards he organized an orchestra under his name. Shortly afterwards he abandoned it all in order to dedicate himself to study piano and music theory, as well as Braille musicology, apart from regular education.
New possibilities opened up for him with the triumph of the Revolution, and after performing in some theaters from the capital, on September 5, 1964 he performed in the Amadeo Roldán Theater, accompanied by the National Symphonic Orchestra, directed by Master Manuel Duchesne Cuzán.
He participated in several tours around Japan, Spain, Canada and the United States and he recorded albums of Cuban and universal music.
Despite his different occupations, he developed a course of Braille notation and he taught young blind people who had skills. When he was asked how he found time for everything, Frank would smile and repeat: "solidarity is not only to receive it."
Today the musical festivals from the National Blind People Association carry his name, as well as the Braille reading room from the José Martí National Library, while the music writing course he prepared, is used in the music writing seminars that are taught every year.
(Cubarte)
---
Related News
---