Very near Gustav to Cuba, in Gulf of Mexico
Submitted by: admin

08 / 27 / 2008
---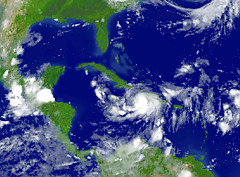 The US National Hurricane Center warned that Gustav could regain hurricane force on Thursday as it passes between Jamaica and the southeastern coast of Cuba, pushing oil prices higher on fears that the storm could strike rigs in the Gulf of Mexico.
"Slow strengthening is forecast once Gustav moves away from Haiti, and the storm could regain hurricane strength within the next day or two," the NHC said.
The Cuban Meteorological Institute said Gustav could strengthen to a Category two or three hurricane on the five-level Saffir-Simpson scale. It made landfall in Haiti Tuesday as a Category One hurricane, the lowest level.
The US Department of Homeland Security urged Gulf Coast residents Wednesday to get ready for the storm, with the city of New Orleans, Louisiana in its possible path almost exactly three years after the area was devastated by Hurricane Katarina.
"Regardless of its predicted path, it is important for citizens in the Gulf Coast region to listen to what their local officials are advising over the course of the next few days and to take these simple steps to prepare," said Homeland Security Secretary Michael Chertoff.
"If residents make individual and family preparations, they make it easier for first responders to focus on people who can't help themselves and need help first."
Louisiana's Governor Bobby Jindal activated a storm crisis team and vowed to lead advance preparation efforts.
"As long as there is a chance that we'll be in this storm, I'll be here in Louisiana," said Jindal, warning he may miss next week's Republican National Convention to nominate John McCain as the party's candidate for the White House.
"I'm going to make sure I'm here personally to lead the preparation efforts and if necessary, any recovery efforts necessary after the fact," he told CNN.
The storm was blowing winds of 60 miles per hour (95 kilometers) as it stalled over Haiti about 110 miles (180 km) west of Port-au-Prince, the US center said in its latest report.
At least eight people died and seven were injured in southeast Haiti as roofs flew off houses and electricity pylons were ripped away by violent winds, authorities said.
In the Dominican Republic, which shares the island of Hispaniola with Haiti, eight people were killed in a mudslide caused by the storm.
All the victims were members of the same family, and had just returned to their home after evacuating two weeks ago, believing it safe after Tropical Storm Fay earlier this month, officials said.
Fay pummelled the Caribbean and left at least 47 people dead or missing, most of them in Haiti. The storm killed 11 more people in Florida.
Gustav was expected to drop six to 12 inches of rain over the Dominican Republic and Haiti, the NHC said, warning that the rains were likely to "produce life threatening flash floods and mud slides."
World oil prices shot up on the New York market Wednesday after energy giant Royal Dutch Shell said it had begun "evacuating personnel not essential to producing and drilling operations in the Gulf."
(AFP)
---
Related News
---