Cuba counts on more than 1, 500 general surgeons, most of them graduated in the Revolution
Submitted by: admin

08 / 27 / 2008
---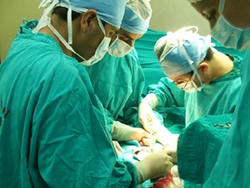 Doctor in Medical Sciences Alejandro Garcia Gutierrez, head of the National Group of Surgery, told the Cuban News Agency that there are also about 200 residents in the faculties of the country and Cuba has the purpose of increasing the formation of those professionals, not only for her, but to offer their service to other needy nations.
Garcia Gutierrez, 83 years old, stands out that a surgeon must be industrious, dedicated to the patients. He must have permanent desires for the scientific progress; serenity, and emotional stability.
For his results as professor of several generations, this doctor received a recognition certificate during the first scientific encounter on the history of the services of surgery of the hospitals Calixto Garcia and Manuel Fajardo that took place in the Cuban capital.
The doctors Gerardo de la Llera, Brown Gilberto Gomez, Eugenio Seltman Housein, Manuel Fuentes Rodriguez, Benito Sainz Menendez and Lazaro Quevedo Guanche were also rewarded.
During the encounter Jose Antonio Presno Bastiony, Jose Antonio Presno Albarran, Eugenio Torroella Mata, Roberto Guerra Valdes, Enrique Echevarria and Eugenio Torroella Martinez-Fortin were also remembered as famous professionals that worked in both institutions.
Doctor Gregorio Delgado, Historian of public health recalled that the surgery in Cuba dates from 1711.
Eusebio Leal, Historian of the City who classified himself as a surgeon of stones and of papers, recognized the trajectory of the Cuban physicians who have written pages in the history of the specialty and asserted that a doctor is the only gladiator that sees the death every day and is able to defeat it. (Cuban News Agency)
(Tiempo21.cu)
---
Related News
---