Beaches, Culture and Festivities in Cuba
Submitted by: admin

08 / 25 / 2008
---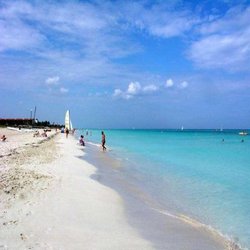 In addition to traditional sun and beach options, and exuberant nature, Cuba also offers its culture and traditions, which are key elements of the island's tourist product.
The fusion of races and customs, as part of a centuries-old process, resulted in a one-of-a-kind culture that is made up of African, aboriginal, Chinese, French and, of course, Spanish elements, creating a unique mixing.
Cities characterized by well-preserved Spanish colonial architecture, hotels that promote plastic arts, humankind's heritage sites, and celebrations and festivities all year around make up Cuba's tourist offers.
That is the case of Havana's Carnivals, which are one of the oldest traditions in the country and were first held centuries ago, on the day of Corpus Christi and the Epiphany, when the African slaves used to dance and march.
For those who take part in the carnivals for the first time, the combination of summer heat, traditional dances and rhythm – usually accompanied by drums or the acute sound of a Chinese trumpet – creates a feeling of belonging that urges them to participate in such festivities again.
Each region's carnival has its own characteristics. The most famous ones are those held in eastern Santiago de Cuba, Remedios and the Cuban capital.
The mixing of cultures in Cuba paved the way for dance and musical diversity, costumes and other distinctive elements that turn those celebrations into very attractive shows.
The country's nightlife reaches its peak in the Tropicana cabarets – located in Havana, Varadero and Santiago de Cuba – or in establishments that recreate the atmosphere of the 1950s.
Cuba also offers world-famous beaches that are visited by thousands of foreign tourists who spend their vacations in the Caribbean Island every year.
The island's privileged location in a region of warm crystal-clear waters, and the existence of long sand strips are special attractions for foreign vacationers.
The world-famous Varadero beach, in the western province of Matanzas, is considered Cuba's best beach, despite the competition posed by the islets that make up the destination known as Jardines del Rey (King's Gardens).
A score of kilometers of excellent beaches, natural attractions, caves, pristine keys and crystal-clear waters are complemented by a broad infrastructure of hotels and extrahotel establishments.
Varadero's sea bottoms are inhabited by more than 40 kinds of corals, multicolored fish, lobsters, shrimps, crabs, turtles and more than 70 kinds of mollusks.
(DTCuba)
---
Related News
---