Oscar Valdés afro-Cuban jazz icons inside and outside Cuba
Submitted by: admin

08 / 25 / 2008
---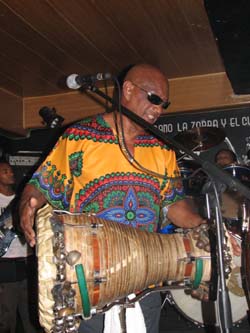 It was a doubly-deserved encounter for the musician and the public. Oscar is one of those afro-Cuban jazz icons who need more promotion in the musical scene of the Island and abroad. And I know many people, inside and outside Cuba who are asking what is going on with him.
The veteran percussionist and vocalist, who gave image and talent to the legend of Irakere is constantly present in the jazz clubs of the city — La Zorra y El Cuervo and the Jazz Café—, and that is all right, but it is about time that other media—radio, television, record labels— give some space to the group he has been able to consolidate.
Diákara is in the vanguard for the way it interweaves a powerful base of rhythm —in which besides Oscar, the Japanese percussionist Haruhiko Kono, disciple of the great Yoshimari Nomi, plays an outstanding role— with the virtuosity of the brass section and the keyboard; and it develops a repertoire that, albeit it has taken Irakere as a starting point of experience, has consolidated its own profile.
It is impossible to obviate how Oscar´s voice gave a distinctive touch to Chucho´s band: tough and harsh, learnt at the "Rumba University" of Marianao. Neither his knowledge of afro-Cuban rhythms, inherited from his father, Oscar Valdés, one of the best drum player of halfway through the last century. His is a legacy Oscar has tenaciously taken to the excellence.
The concert in the Amadeo Roldán Theater should be considered as a call to attention, to follow Oscar Valdés and the youth in Diákara.
(Cubarte)
---
Related News
---