Quality of Life of Women with Risky Pregnancies Improving in Cuba
Submitted by: admin

08 / 25 / 2008
---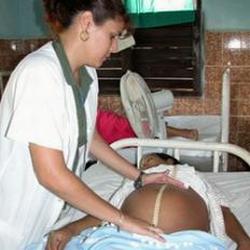 Cuban municipality of the Isla de la Juventud —a small island to the south of Cuba's main territory— has an infant mortality rate of 2.9 for every 1,000 live, underweight births. This is the lowest rate in the entire country, said Edilberto Morales, head of the Healthcare Program for Mothers and Children in this area.

"For five years now, this condition –together with congenital diseases– has been one of the main causes of death for babies under the age of one. It is no longer a problem in Cuba, thanks to the work of PhDs in genetic counselling," said Morales, who is also a first degree specialist in Gynaecology and Obstetrics.

He explained that this is the result of a study that started more than a year ago in all the healthcare areas of the municipality, with the objective of identifying all women with high risk pregnancies and non-transmissible chronic diseases – such as hypertension, asthma and diabetes. The study enabled the taking of actions aimed at modifying, easing or eliminating the causes, as well as achieving normal pregnancies with successful deliveries.

Among the aforementioned actions is admission to the Home for Mothers, which was recently renovated and provided with new equipment for guaranteeing a higher quality of life. There, pregnant women enjoy hot running water, air conditioning, better food and complete rest.

"By reducing this indicator, we reduce the probability of death from this cause, which has an impact on the infant mortality rate. On August 18, our municipality reported 3.5 deaths for every 1,000 live births, which was the fourth lowest rate in the country, after those in Matanzas, Holguín and Las Tunas provinces," added Morales. He also mentioned that the Isla de la Juventud expects to end the year with more than 1,000 births, a figure they haven't been able to reach in the last three years.

Morales said to JR that special consultations are made at the Juan Manuel Páez Inchausti Polyclinic, in Nueva Gerona, to treat infertility and to increase the birth rate. Moreover, a low complexity center for assisted fertilization will be inaugurated in the Héroes del Baire General Teaching Hospital, while the most serious cases will be treated in the nation's capital, Havana.
Source: Juventud Rebelde
---
Related News
---