Cuban surfers ride waves on donated boards
Submitted by: admin

08 / 23 / 2008
---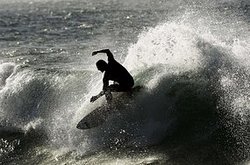 Now they ride the waves on second-hand surfboards donated by surfers in other countries, whose solidarity is keeping afloat one of the least known tribes in the surfing universe.
"Cuba is one of the last places not surfed in the world. It's probably like Bali was in the late 1960s," said Bob Samin, a 49-year-old Australian engineer who promotes surfing on the island.
Surfing, which does not have the official support other sports receive in Cuba, survives thanks to the tenacity of a handful of fanatics who learned the sport by imitating what they saw in foreign magazines.
Without money and with little contact with the outside world, the 100 or so surfers in Cuba shared the few boards they had, developing the cooperative ethos that once reigned among surfers elsewhere but now has been replaced by competition, said Mr Samin.
"In the rest of the world, surfing has lost its soul, it has become very competitive. Everybody is so hyper, here is different," said Mr Samin, who works on an oil platform in the Indian Ocean and travels every five weeks to Cuba.
He has been the driving force behind the international effort to get boards for Cubans, setting up a web page, HavanaSurf, through which most donations have been arranged.
So far this year, Cubans have received 20 boards and another 40 are expected in coming months.
"Those who donate the boards know what it's like to be sitting on the beach, watching the waves without being able to surf," said Eduardo Valdes, leader of the Cuban Surfers Association.
"All those who come to Cuba bring some things and at the end leave even more than expected, because they realise we are good people. They even leave us clothes," he said.
The home of the 27-year-old, heavily tattooed chemist is ground zero for Cuba's surfing culture. Donated boards are stashed in his dining room, behind doors and in the garage. Surfers parade by, looking for boards or accessories like an ankle leash or surfboard wax.
The boards are given out for free to the surfers, with one condition - no one can sell them. They can be shared, handed down or given away, but years of necessity taught Cuban surfers that things like cooperation and solidarity with their fellow surfers were more important than money.
"When I went into military service, for example, I gave my board to another surfer," Mr Valdes explained. "That's the way it is with everything, even with a piece of wax."
Cuba is not known for big waves, but foreigners still come for the mystique of surfing in one of the few socialist countries in the world.
They visit mostly during Cuba's mild winter, when waves are more consistent. But the best surf, Cubans say, comes with the storms that punish the Caribbean each summer, most recently Tropical Storm Fay.
Mr Valdes' eyes shine when he remembers the passage of Katrina on its way to New Orleans in 2005. The storm was a tragedy for the US Gulf Coast, but a rare treat for Cuban surfers.
"We surfed about a week with waves between six and eight feet (1.8 to 2.4 meters). It was perfect."
The best waves, said Mr Samin, are at Baracoa, a colonial city at the eastern end of Cuba exposed to waves from the Atlantic Ocean. But there is also surfing right off the Malecon, Havana's broad seaside avenue.
In the past, Cuban surfers had to deal with a certain suspicion from the authorities, especially after someone escaped to Florida in 1994 on a windsurfing board.
"Even now we go to the beach and there are people who say to us 'You're leaving? Take me with you," Mr Valdez said.
"It's impossible to cross 90 miles (144 km) in a surfboard," he said, referring to the distance between Cuba and the United States.
Cuban surfers are viewed by the surfing world as a work in progress, talented but not yet able to compete with the world's best.
"We know from reports in magazines that surfing is young in Cuba and they need international contact to improve their skills," said Karin Sierralta of the Latin American Surf Association.
Mr Valdes says there are plenty of good Cuban surfers, but they lack the infrastructure and support needed to reach the top level.
They have not even been able to organise a local surfing competition because they do not have basics like a sound system, needed so surfers out on the waves can hear announcements.
Cuban sports officials put a heavy emphasis on Olympic sports, where winning medals is viewed as a victory for the socialist homeland, so surfing is not a priority.
Still, Mr Samin has been in talks with Cuban officials, who have informally agreed he may one day coach a Cuban surf team, and he believes the time is not far off when a Cuban will compete internationally.
"Let's say it's a couple of years away," he said. "There is one guy who could do it now. He's quite good and there's a few not far behind."
"US stars like Cory Lopez or Kelly Slater learned to surf on waves like these. These guys can do it," he said.
(Reuters)
---
Related News
---