Jazz and Cuban musical roots with the style of Yasek Manzano
Submitted by: admin

08 / 23 / 2008
---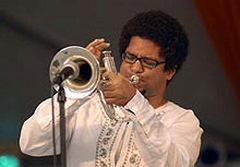 The room from the National Fine Arts Museum cramped by the followers of the young trumpet player, composer and arranger, was energized with interpretations by famous musicians and young values lead by Manzano, who paid tribute to the victims of New Orleans .
The concert-program, which went over the best in this genre, increased step by step emotions from the public –especially- with the absolute premiere by the piano player and author Emilio Morales, of Cancaneando con Yasek , dedicated to can can dance.
The encounter was also qualified by the charismatic performance of the guitar player and singer Pablo Menéndez with the song I´ll see you in C.U.B.A, by composer Irving Berlin, called the Bach, Haydn, Mozart and Beethoven of jazz, and the father of ragtime.
Not just Yasek went up Mount Parnassus with his improvisations, other young instrument players also shone: Jorge Luis Pacheco (piano), David Faya (double bass), Edgar Martínez ( tumbas and small percussion), Janet Valdés (voice), Delvis Ponce (saxophone) and Aniel Tamayo (drums) who shared his space with the experiences colleague Enrique Plá.
Among the set of pieces there were the Marcha Fúnebre a New Orleáns ; Lush life, by Billy Strehyhorm; Saint Thomas by Sonny Rollings and the Descarga a la cuna with "non premeditated harmonies, rhythms and melodic ideas".
Taking into account the origin of jazz and that of Cuban rhythms through African slaves brought from Africa, Yasek included among the themes the memorable Mercé that recalled Bola de Nieve and Drume Negrita by Eliseo Grenet, wonderfully performed by the heart and soul of the singer.
The guest list was completed with Ernesto Vega (clarinet and saxophone); and the young women Lisbet Gómez (euphonium) and the singer Mónica Marziota, who gave out a special version of Summertime, by George Gershwin.
August 23rd, in the Villena room from the UNEAC, there will take place the last one of the four concerts by Yasek and his band and guests, which will promote a debate on jazz.
(Cubarte)
---
Related News
---