Nicaragua's President Praises Cuba Solidarity in the Medical Field
Submitted by: admin

08 / 22 / 2008
---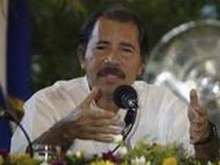 In his closing speech at the "Casa de los pueblos" institution in Managua and addressing the graduated professionals, Ortega said that the graduation is the best expression of solidarity, socialism and Christianity, PL news reported.
"Today, the Cuba of Jose Marti, of Fidel and Raul, steps to a colossal position and has outstanding values," said Ortega in the presence of the graduates, their families, government officials and members of the Cuban medical brigade in that country.
He recalled the arrival of the Cuban doctors in the capital Managua to assist the victims of the 1972 earthquake and he affirmed that such an action revealed the nobility of Fidel Castro and the Cuban people.
Ortega stressed that no country in the world has maintained for so many years such solidarity with other nations as Cuba has, and he noted that the Cuban example is exceptional. He said that the graduation of the Nicaraguan doctors is a victory of the Cuban people and Fidel Castro, to whom he sent his gratefulness and the thankfulness of the Nicaraguan families.
The new Nicaraguan doctors are part of a total of 1,800 physicians who have graduated from universities in countries, which are members of the Bolivarian Alternative of the Americas integration program (ALBA), said Nicaragua´s health minister Guillermo Gonzalez.
Cuba´s deputy health minister Roberto Gonzalez Martin took the occasion to pass a message expressing greetings and admiration from Cuban Revolution leader Fidel Castro and President Raul Castro and to the Nicaraguan President and his people.
Gonzalez said that 1,000 Nicaraguans are currently studying medicine in Cuba, while another 240 are taking other higher education courses.
(ACN)
---
Related News
---