Cuba's Yoanka González opens the door to Olympic glory
Submitted by: admin

08 / 19 / 2008
---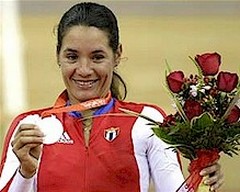 That merit is multiplied, because the young woman from Cifuentes in Villa Clara province, achieved that distinction in what many consider to be the most complex track cycling event, or at least the one with high tactical value, as speed has to be combined with resistance.
Yoanka's race was in keeping with those demands and with an added value, her indomitable spirit of struggle, because, when she and all the other competitors were surprised by Dutch Mariam Voss' breakaway, she knew she had to redouble her efforts and lead all the remaining sprints – four in total – so as to ensure her presence on the winners podium.
For an idea of González' combativeness, one needs to know the main characteristics of this race. It is over 20 km and has 10 sprints; in other words, points are gained at each kilometer: the first, five points; the second three; the third two; and the fourth, one. When the Dutch woman moved ahead, leaving the other cyclists behind, she took 20 points according to the regulations, plus the 10 she already had, making 30 to bury the gold aspirations of all the competitors.
At that moment, Yoanka only had 8 points and was tied with Colombian María Luisa Calle, with a number of the most advanced specialists in this race – like Vera Carrara (Italy), Lada Kolizkova (Ukraine), plus the all-time best Russian Olga Slyusareva – close behind. There were four sprints left, of which she won two, thus sealing her great performance.
Number five in the world rankings this season, González today gave Cuba the possibility of becoming the eighth country on the podium in the Olympic history of cycling points races.
Her embrace with José Peláez, president of the Cuban Cycling Federation, was the expression of her success, not just in terms of a silver, but the confirmation that Cuban cycling had worked for such a meritorious award because, with Yoanka, all the workers at the Reynaldo Paseiro Velodrome, one of the best-cared for facilities in our country, stepped onto the podium, plus our Tour of Cuba; i.e., all the people. González opened the door to Olympic glory, not just through her entry, but for the definitive arrival of cycling at this height.
The feat of the woman from Villa Clara confirms her sentiments on leaving for Beijing, when she said, "Escorting the national symbol will give me the strength to return with a worthy performance."
Third place went to Leire Olaberría of Spain, with 13 points accumulated in the Laoshan Velodrome.
(Granma International)
---
Related News
---