Cuba Scholar on Che, from Bolivia
Submitted by: admin

08 / 19 / 2008
---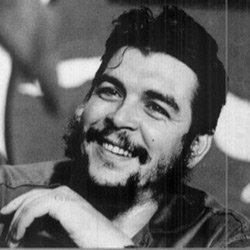 In a conference entitled The thoughts of Che and Challenges of today, the prestigious writer called for the need to obtain maximum benefit from the philosophy of Guevara, a source that is not sufficiently studied, he considered.
"Che was always present but now I believe that there are better conditions to use his legacy," Martinez explained, during the International Book Fair in La Paz that will continue until August 28.
However, he warned, these ideas should be retaken from a critical point of view and used analytically, not mechanically, as done by the legendary fighter.
Equally he stressed the value of the theoretical contributions of the mythical combatant in the generation of unconditional anti-imperialist thought, garnered in the heat of his intense work in favor of just causes.
Despite his death at an early age, his revolutionary concept is one of the most important of the 20th century, affirmed the social investigator, historian and scholar of the life of this Latin American Icon.
He praised the multifaceted feature of the personality of the extraordinary leader, a man that was "exceptional as an intellectual and as a person that, in the midst of his constant struggles, never stopped studying."
The Casa de las Americas Award (1989) reviewed the intellectual work developed by Che in Cuba after the triumph of the Revolution in January of 1959.
He recalled the convincement of Guevara regarding the importance of creating a "new man," a process that would never be concluded but be in constant movement.
Lastly he stressed the role of the ethics in the course of his thoughts referring to world history, his social conduct and respect to always be true to his given word.
(PL)
---
Related News
---