Tropical Storm Fay Heads for Central Cuban Provinces
Submitted by: admin

08 / 18 / 2008
---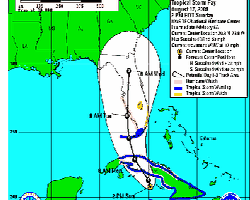 To protect human lives and preserve material resources are the main actions carried out by the Civil Defense Councils in each territory threatened by Fay. In Ciego de Avila for example, measures have been taken to evacuate residents in the town of Júcaro, an area that could be at risk.
Fishing boats and warehouses have been protected, while more than 4,000 heads of cattle from Venezuela municipality were taken to higher places. More than 300 vacationers who were camping in five different areas have returned home, and hospitals and other health units are ready to offer their services.
Likewise, food at the Port of Palo Alto was rapidly taken to the provincial capital, harvests of grain, root vegetables and vegetables were prioritized in lower areas, and stores and markets are working without a break to guarantee that people can purchase all the products they need.
Flooding from Fay killed 2 people and left 2 children missing in Haiti and the Dominican Republic, as it moved toward Cuba. It's the sixth named storm this season, and it formed on Friday over the Dominican Republic in the Caribbean Sea.
Cuba's Meteorology Institute and the Civil Defense will continue to inform the population on the development of this tropical storm, as it moves west at some 20 kilometers per hour along the southern coast, for which heavy swells and floods have been forecast.     
(www.cubanews.ain.cu)
---
Related News
---