Two Cuban voices in Spain Omara Portuondo and Eliades Ochoa
Submitted by: admin

08 / 13 / 2008
---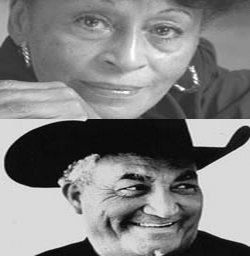 The press of the peninsula receives the winner of the 1998 Grammy Award winner as one of the key interpreters if the Buena Vista Social Club; and the public is already arriving to get the tickets to the concerts offered by Eliades Ochoa and his band in the clamores room in Madrid, last August 5 to 8 and in the Zaragoza Expo on August 10.
When the singer was interviewed, and without loosing the smile that usually accompanies his image, he stated, when he was asked about the life of the Cuban music that "it used to be much harder to earn a living with music in Cuba ."
He also announced that in these new performances in Spain there will be surprises and that "the new album that we are preparing will be mainly centered on African music, which is our root."
That is why he has incorporated to the sounds of his repertoire, which has such a strong Spanish accent, the Afro-Cuban expression elements because in the rhythmic cells of our songs and melodies is the life heart of Africa .
Omara Portuondo has returned to the Spanish country. Being 77 years old, with much energy and full of happiness, the diva from the Buena Vista Social Club or the Lady of Feeling, as she is also0 known, is celebrating her 60 years of artistic life.
And as she declared it to the press in Barcelona, she considers herself to be "the representation of Cuban culture," and this is no exaggeration, nor a gesture of vanity, but the sense of belonging and the self esteem of one of the greatest and best known interpreters of Cuban popular music.
Omara, always cheerful, announces her future to which she does not renounce and she tells us with a smile: "I still have much to sing." This woman from Havana , who started her career as a dancer in Tropicana, when she was only 17, directed her talent and sensitivity towards music and became an icon, after going through a number of bands, among them, the famous quartet which she made up with her sister Haydée and her friends, the already deceased Elena Burke and Moraima Secada.
Now, she performs in the festival Jardins de Cap Roig, while she presents her new album to the public. The album, with the title Gracias , brings together the best known melodies and rhythms in her career. These are songs with which, as Omara Portuondo herself declares, "she wants to thank all of those who have participated in her work, in her happiness."
Omara is singing for the first time in this stage from Cataluña and with much humor she states that "it will not be the last one," in order to hand in the music of her country, sensual, beautiful and warm.
(Ahora.cu)
---
Related News
---