The Cuban famous star María de los Ángeles Santana with 94 years old
Submitted by: admin

08 / 13 / 2008
---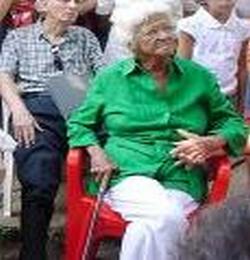 And also, it was only a few weeks ago that I was able to receive the kiss of her smile, the cheerful and always tender greeting of the hands and her sight, when she appeared in the balcony of her home, found in the central Línea street in Havana.
Time, has truly broken her body, especially when pain has reached her again, as she has to live the absence of her husband, of her loved Julio, the fried and companion of adventures and dreams throughout her entire artistic career.
I met both of them some years ago already, and with them I found the dialogue of friendship; the only one they knew how to establish, bringing us together also the love we all share in our heart for their nephew, the writer Enrique Pérez Díaz, after several years and hardships in this work of writing.
María de los Ángeles Santana, the famous star, became 94 years old last August 2, with the proud spirit of who has known how to honor the way, dedicated to her people, who adores her as she has been able to see in several occasions, when they see her on a theater stage, or in a TV screen or in any occasional everyday presence…
This woman filled the space of Cuba and America , was intensely admired in Spain as the great show star in cabarets and stages, and loved, as she has always been, by talent and love, from her work and her dedication to art.
She is also that exceptional human being, of whom everyone talk about with love and tenderness, something not that common and completely unusual when such judgments and opinions come from an environment that, as it is the case with the artistic one, has to suffer, due to its own competition, professional jealousy and the lethal bite of envy…
Many people always remember María, as she is usually called, with respect and also with gratitude, because from the teaching of her work, she never underestimated anyone and she was always ready, in the most different and complicated situations, to offer support, from the silence of her kindness.
She is the same María de los Ángeles who had the privilege of singing at the beginning of Cuban sound movies, in that first full-length movie by Caparrós that took, in order to leave the silent movies, the argument of a radio serial by the man from Santiago Félix B. Caignet, La serpiente roja (The red serpent)…
She, the same woman who sings and demonstrates her voice and her charisma, the gentleness of her figure in a cabaret that is only a studio set, in El romance del palmar (The romance of the palm grove) while Rita Montaner is troubled by her loves…
María who was for years and she is always remembered in smiles and laughes as the major from San Nicolás del Peladero . She is that great actress, who hurt, after suffering two hip fractures, seating on a television set and accompanied by her friend, who has also died already, that wonderful actor and true gentleman who was Enrique Santiesteban, who was also ill and also unable to walk, articulated that famous humor program that entertained our nights.
She is a woman who has deserved many recognitions, among them, the National Staging Arts Award, because she dedicated herself to the stage since she was very young, and she is still doing it now as an old woman. Knowing that she enjoys already the thankful love of this country who is now thankful to her for living this long.. and wishes her health in her 94 years, warm and beautiful, always happy.
(Cubarte)  
---
Related News
---