Fidel Castro Ruz turns 82 years old: Happy Birthday Commander!
Submitted by: admin

08 / 13 / 2008
---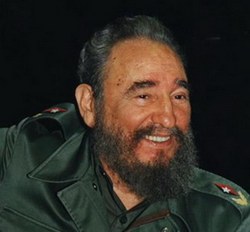 Men who stop living their own lives to live through million of persons and guide them towards the path of equality and justice. Men who leave their own well-being and try to take it to those who have nothing and dedicate their forces in favour of the mankind.
For that, the birth of this man was not casual. To resist the harm other beings were doing to their equals, there was necessary to search for someone capable to change the course of his Homeland with intelligence and decision. And he came. As the rest of us he came to this world naked and crying, but little by little his character began to mould until becoming the indisputable leader of an entire people.

His name surpassed borders and became universal. Acclaimed by multitudes all over the world, his just and sincere word is the consolation of many and the whip of some others.

Impossible would be to say how great he is, since immense virtues cannot be described with words, but must be imitated to achieve a better world for the new generations.

This August 13th, Fidel Castro Ruz turns 82 years old, and the whole world will smile proudly of having given men of his size, but the 20th century feels lucky of having seen the guidance to a people towards definitive victory.

And though he prefers to be called "comrade", to Cubans and the rest of the world he will continue to be the Commander in Chief.

Happy Birthday Commander!

(Guerrillero.co.cu)
 

 
---
Related News
---