In Cuba Summer, Recreation and Health
Submitted by: admin

08 / 10 / 2008
---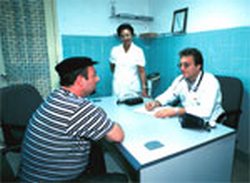 Summer is an incentive for tourists, both Cubans and foreigners, to enjoy their vacations in the island's white-sanded beaches of crystal-clear water.
July and August, the hottest months of the year in Cuba, are full of activities in the fields of sports, culture and the social life in general, even for those who prefer to stay home and watch television.
Traditional tourist options are complemented by a hotel infrastructure that provides accommodation, gastronomic offers and extrahotel activities.
Summer is also a period to make plans, including meetings with friends and going to the movies, theaters and nightclubs, or just to walk the streets of major Cuban cities and enjoy a pleasant nightlife.
In summer, many visitors enjoy the air-conditioned atmosphere in restaurants serving Cuban food, where they can taste a wide range of dishes from local cuisine.
Generally, cultural authorities design special options, including movies, exhibitions and festivals.
In addition, Cuba's tourist sector has the infrastructure necessary to turn your vacations into an excellent opportunity to improve your health,
Thousands of professionals, state-of-the-art technology and dozens of medical centers specialized in natural and traditional medicine are available for foreign tourists.
Cuba combines recreation and leisure with treatments to improve vacationers' quality of life, using treatments such as thalassotherapy, which takes advantage of the fact that the country is an island.
In addition to international clinics, pharmacies, optician's shops and specialized institutions in major tourist resorts, Cuba also has a broad infrastructure made up of more than 280 hospitals, 400 polyclinics, 116 dental clinics and 1,500 establishments of different kinds that can meet the most complex demands from human health.
(DTCuba)
---
Related News
---