Ramón Labañino, one of the five Cubans jailed in the United States Grateful of World Support
Submitted by: admin

08 / 10 / 2008
---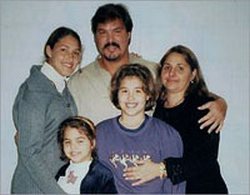 Labañino's gratitude was voiced by his daughter Ailin, who recently visited him at the MacCreary federal prison in the state of Kentucky, where he is serving a life sentence plus 8 years.
According to Ailin, her father sent all Cuban Five supporters campaigning for their release a message of strength and unity.
During my 30-day stay in the United States I visited my father eight times. It's been two years since the last time I saw him, she told Cuba's National News Agency.
Labañino, Fernando González, René González, Antonio Guerrero y Gerardo Hernández are five Cuban men who are in U.S. prison, serving four life sentences and 75 years collectively, after being wrongly convicted in U.S. federal court in Miami, on June 8, 2001.
The Five, as they are internationally known, were falsely accused by the U.S. government of committing espionage conspiracy against the United States, and other related charges.
But the Five pointed out vigorously in their defense that they were involved in monitoring the actions of Miami-based terrorist groups, in order to prevent terrorist attacks on their country of Cuba.
The Five's actions were never directed at the U.S. government. They never harmed anyone nor ever possessed nor used any weapons while in the United States.
On June 4, however, the Atlanta Appeals Court upheld the convictions of the Cuban Five.
(ACN)
---
Related News
---