Young Cuban painter after the trace of the orchids
Submitted by: admin

08 / 08 / 2008
---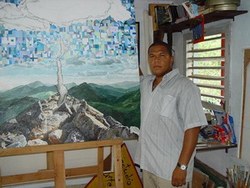 To Jose Lazaro Bocourt the world of plastic arts in the territory has a peculiar case joining the easel to the monitoring of the fields, especially in the woods of Rosario Range, biosphere reserve near the garden.
His drawings and paintings go always along with descriptive texts, as a result of the observation of plants in their natural milieu, and of the analysis of documents and laboratories, specially, on the work with miniatures.
The volume "The orchids of La Cienaga de Zapata" is one of his most recent reports on scientific drawings; nevertheless, to 1991 date back his first contributions to botany books published in Cuba, Mexico and Italy.
Although plastic arts attract him in a special way, the artist, after the trail of the queen of flowers in different regions of Cuba, has discovered the species encyclia bocourtii and encyclia cajalbanesi, endemic of the province.
With artwork collections in Latin and North America and Europe, Bocourt valorated Rosario Range as a mystery that invites to paint, which has been captured by the work of Jorge Duporté, Lester Campa and Jesu Gastell, among other artists.
Orchids in Cuba include some 330 species, many of them present in Soroa garden, founded last century, and they are considered as the most numerous family of bloomed plants in the world.
(Guerrillero.co.cu)
---
Related News
---