In San Francisco, US Billboard on Cuban Five to Be Unveiled
Submitted by: admin

08 / 08 / 2008
---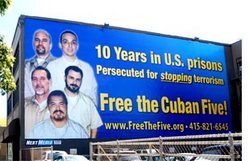 The initiative came from the National Committee to Free the Cuban Five. Its coordinator Gloria La Riva will speak at the dedication, as will noted antiwar activist Cindy Sheehan. The public is welcome at the event that will include a press conference, according to a report by the organization.
Earlier this year, another billboard honoring the Cuban Five and demanding their freedom, was erected in downtown Los Angeles (Hollywood) during the month of February.
The National Committee to Free the Cuban Five has also been carrying out a campaign demanding visas for the wives of two of the Cuban Five who have been denied permission to visit their husbands for many years, in a grotesque violation of human rights, the report says.
Hundreds of letters and emails have been sent to Attorney General Michael Mukasey, Secretary of State Condoleezza Rice, and Homeland Security Secretary Michael Chertoff, demanding the granting of those visas.
Septempber 12 will mark the tenth year of the unjust incarceration in U.S. prisons of five men known as the Cuban Five- Gerardo Hernandez, Rene Gonzalez, Antonio Guerrero, Ramon Labañino, Fernando Gonzalez. The Cuban Five, as they are known, were in the United States to prevent the continuation of the nearly 50-year spree of terrorism conducted against Cuba and supporters of Cuba in the U.S. and around the world by right-wing groups based in Miami.
Instead of being honored as anti-terrorists, they were unjustly imprisoned and falsely convicted by the U.S. government, and face sentences as long as double life, the Committee's announcement concludes.     
(www.cubanews.ain.cu)
---
Related News
---